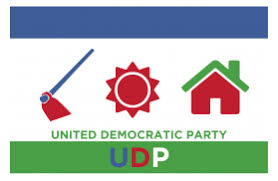 Mr Adetunji Oyabambi, the governorship candidate of the United Democratic Party (UDP) in Kwara has pledged to fight high rate of poverty in the state if elected in the 2019 general election.
Oyabambi made the pledge on Sunday on his arrival at the Ilorin International Airport ahead of 2019 general election.
According to him, a walk through the state capital has shown that people are bedridden with high poverty, hence the need to tackle it.
He described poverty as a state of mind that affected people's thinking about life.
He stated that the menace would be tackled through youths and women empowerment.
"Poverty of mind is the worst, when your mind is not stable, you will be thinking of a lot of things.
"Like for instance, we walk through the state capital and saw poverty everywhere.
"But we will try as much as possible to curb it with the youth.
"We will try to empower youths, traders and widows to ensure everybody has something doing," he said.
Oyabambi lamented the deplorable state of infrastructure in the state, regretting that the construction of the diamond underpass at Garin Alimi which started more than two years ago had yet to be completed.
He promised to restore the lost glory of the state if given the opportunity to serve come 2019.
"Two years ago when I came home, the diamond underpass at Garin Alimi was ongoing and up till today, the project is yet to be completed.
"I met a lot of people in the rural areas asking them questions what can we do to develop the state. I talked with them; talk with my state chairman here and at the national level on how we can bring glory back to the state," he said.
The governorship candidate also promised to revamp the economy of the state through the resuscitation of moribund industries.
"My goal is to bring back all our industries in Kwara.
"Twenty-five years ago, we had industries like Tate and Lyle, Kwara textile and Okin Biscuits among others.
"But everything has folded up today. By the grace of God if we are empowered, we will bring them back," he said.

Load more