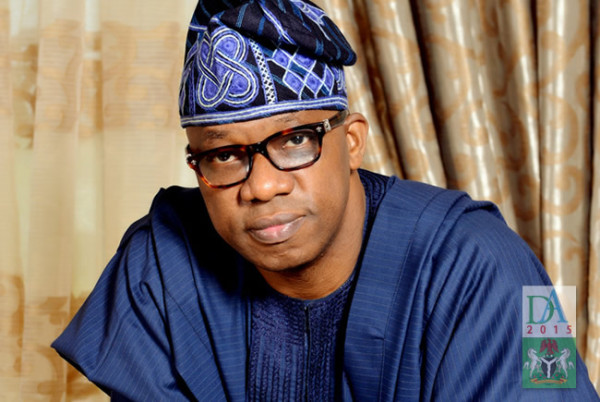 Adejoke Adeleye,Abeokuta
An aggrieved aspirant under the platform of the All progressive Congress (APC), Ogun State, Gabriel Oyatayo has called on Governor Ibikunle Amosun to allow the supremacy of the party to prevail and support the party's elected gubernatorial candidate, Prince Dapo Abiodun.
Oyatayo, who is aspiring to represent Abeokuta South at the Ogun State House of Assembly (OGHA) from ward 7 led his supporters from other 15 wards from Abeokuta South Local Government to the Nigeria Union of Journalists (NUJ) Secretariat in Okelewo Abeokuta to pledge their support for the party's flag-bearer, said he had been told to step down for other aspirants on three different occasions.
His words "I have been contesting for elective positions in our great party APC since 2011 when It was then called Action Congress of Nigeria(ACN). I first contested for companionship in 2012 later I contested as Chairman of Abeokuta South East and recently an House of Assembly aspirant, there was no single benefit from his government.
"On this note, I want to appeal to the governor to allow the supremacy of the party which he has used to take away tickets from me three times since 2011 and the same he enjoined in 2010 when he was handpicked as the governorship candidate of Action Congress of Nigeria (ACN) ahead of 10 other aspirants without primary to also prevail on him and support the candidature of Prince Dapo Abiodun. This is the only way the governor can be a true party man and leader he claim to be.
"I also want to urge the governor to restrain his supporters from moving to another unpopular party as it is already flying around the media, it will be an act of anti-party and I urge the governor not to do so for the party he has benefitted immensely as a two-term governor.
"Myself and my entire supporters across all the 15 wards in Abeokuta South Local Government hereby abide by the decision of the party and pledge to support the party flag-bearer, Prince Dapo Abiodun with all our resources to ensure he emerges victorious in the forthcoming general election."
Also, another group, Arewa Community, Ogun State Chapter, that  pledged their supports for President Muhammadu Buhari's second term and Prince Dapo Abiodun as Amosun's successor come 2019, also advice their members to shun any misleading information.
The Arewa Community was led by Prince Hadi Sani Dip, at the former governor Olusegun Osoba's house, saying that the APC members could not afford to lose a single vote for any of their candidates.

Load more