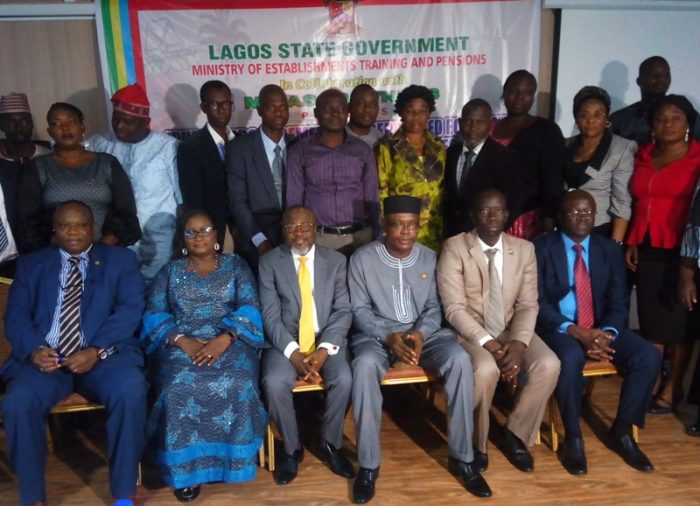 Lagos State Governor, Akinwunmi Ambode on Thursday said no government has excuse not to deliver qualitative and valuable services to the public.
Ambode spoke at a two-day training for civil servants held in Ikeja, Lagos, Southwest Nigeria.
The governor, who was represented by the Commissioner for Establishments, Training and Pensions, Dr. Benson Oke argued that for the pursuit of quality even in the face of a depressed economy, the delivery of value to citizens was the fundamental objective of any democratically-elected government.
"In contemporary times, the delivered value must be delivered to the highest possible standard because citizens have become sophisticated and exposed to the standards of governance in other climes such that their expectations have been conditioned to demand and insist on compliance with global trends in governance and public administration at all levels of governance. Meeting these expectations is the central challenge for governments in contemporary times, even in the face of lean resources," he said.
The governor also solicited citizens' input to improve public services, including procurement activities, stressing that innovative governments were creating new ways for citizens to make their voices heard, giving them the ability to provide input into regulations, budgets, and the provision of services.
However, Ambode recommended that procurement officers in the civil service must possess conceptualisation skills, as officers of the Lagos State Public Service must always be able to see how any procurement action or decision affected every part of the service and its service offerings.
He charged them to pay attention to details, by being aware of the activities of the other officers and the status of projects, thus allowing autonomy whenever possible, adding that there must be an effective delegation of responsibilities, duties and collaboration with the private sector.
"This is also an art and skill that public servants must acquire and master. There is a fine line between delegating tasks to staff and shirking from responsibilities, knowing subordinates and colleagues will take up the slack. The Lagos State Public Service must navigate this distinction by assigning not just tasks, but clearly defined spheres of influence where officers have authority to make procurement decisions and to collaborate with the private sector," he said.
Permanent Secretary, Office of Establishments and Training, Rhoda Ayinde charged the trainees to be focused and make use of the opportunity to get the best from the training and passed the knowledge gained to their subordinates.

Load more