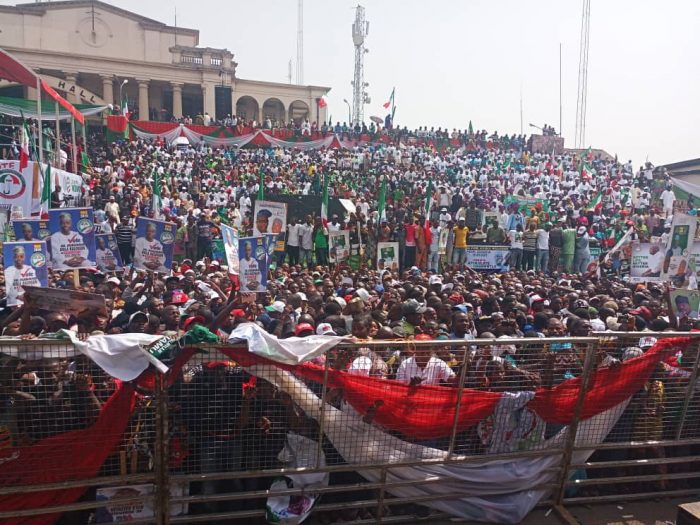 Gbenro Adesina/Ibadan
The Presidential candidate of the Peoples Democratic Party, PDP, in the 2019 general elections, Alhaji Atiku Abubakar and the Senate President, Senator Bukola Saraki, were among eminent Nigerians who described the All Progressive Congress, APC led administration by President Muhammadu Buhari as an abysmal failure.
Atiku, Saraki and others stated this at Mapo Hall during the PDP South West Mega Rally which attracted huge party faithful, including former governor of Osun and Ogun States, Prince Olagunsoye Oyinlola, and Otunba Gbenga Daniel, Senator Ben Bruce and former Minister of Sports and Special Duties, Prof. Taoheed Adedoja.
Both Atiku and Saraki specifically stated that due to the fact that President Buhari failed to fulfill his various promises made to Nigerians in 2015, Nigerians would not re-elect him at the 2019 president election.
Among the promises they claimed Buhari failed to deliver were: failure to provide security of lives and property and failure to tackle corruption as Atiku alleged that since the history of the country, corruption had never attained the high level of the current state.
According to Atiku, "In 2015, some liars, deceitful people came here to deceive us and we gave them our votes. But we have discovered that they have failed to deliver all the promises they made to Nigerians. In the history of this country, the best prosperity, peace, educational advancement were all enjoyed under the Peoples Democratic Party. He (Buhari) promised us jobs. But instead of giving us jobs, over 12 million jobs have been lost. They promised to alleviate poverty but we are becoming poorer as a country. Now, Nigeria is the poverty capital of the whole world. Is this the kind of government you want to continue with? If I'm given the opportunity, we shall return prosperity to this country."
He continued, "Everyone knows that I chaired the best economic team in this country. If you give me the opportunity again, I will organise the best team that would bring economic prosperity back to this country. South West has been known for educational advancement, if I'm given the opportunity, I will ensure that this zone regains its glory. One of the most touted things is restructuring of this country. Today, I pledge that within six months, we shall begin the process of restructuring. I have lived in this city and I am not a stranger to Ibadan or Yoruba race, therefore, don't believe APC again. PDP needs your support. This Buhari must go".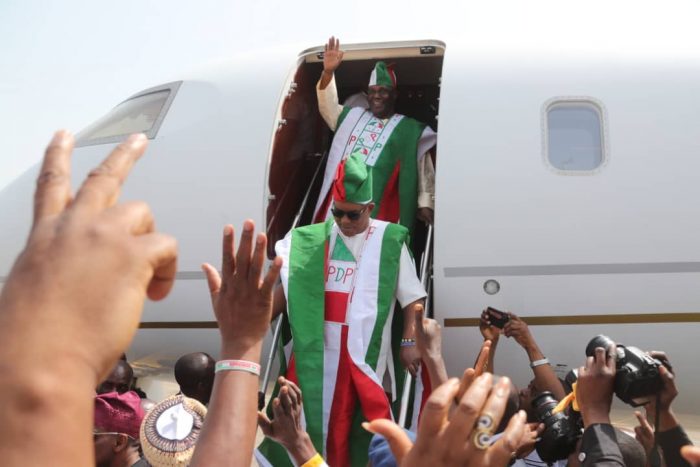 In the same direction, Senator Saraki stated that Buhari's administration promised security and provision of food "but today, security has gone worse in the North East, Ogun and other parts of the country. There is insecurity and hunger in the South West. We need someone who would bring food on the table. I was in Ilorin yesterday, people said the suffering is too much. What you can do to stop it is to go out and vote. Nobody can give us employment except Atiku. He has business ventures. Just yesterday, 42 political parties teamed up with Atiku and promised that they would send Buhari to Daura".
In his speech, the National Chairman of the party, Prince Uche Secondus noted that it is only Atiku that APC is scared of in the next election, adding, "APC is afraid because they know it is Atiku who can rescue this country. Nigeria is in crisis. Atiku has achieved a lot in public and private sectors. An emperor of APC says Buhari is not fit. So, by February 16, 2019, let all of us troop out and cast our vote for PDP.
"Don't allow INEC, security agencies to maneuver or intimidate you. They promised us security of lives in 2015. But, look at the killings going on in the country. When they kill, the President will say he is not aware. His government has collapsed. On corruption, Buhari's government is the most corrupt government. Where is our 25billion dollars? Where is our N8 trillion? "Under this government, corruption has gone to the highest level. APC has gone to Nigeria Ports Authority to raise money for election. All government agencies should be careful. Enough is enough".

Load more