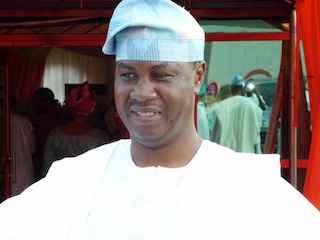 Adekunle Dada
Lagos State gubernatorial candidate of the Action Democratic Party, Babatunde Gbadamosi has cried out saying his life is at risk as some political personages are making plans to murder him.
The Real estate developer took to social media to tell the world that his life is at risk. In different tweets, Gbadamosi kept saying that they plan to murder him same way Late Funsho Williams was murdered because he looks likely to win the 2019 governorship election in Lagos.
His tweets read:
'In this same Lagos State, when Engineer Funsho Williams looked likely to win the 2007 elections, he was murdered by "persons unknown". I want the world to know now that some political personages in Lagos State are making plans to murder me if they can't stop me democratically'.
Funsho Williams relied on Police protection but he was still murdered, in fact, the very night he went to make a formal complaint to the police at Zone 2 Police Headquarters at Onikan about a threat to his life, he did not live to see the next day.
My would-be murderers will soon send their minions to come and troll this announcement, to make me look like I'm crying wolf, just as they did to Funsho.
My life is at risk, but I will not relent in the quest to free Lagos State from modern day SLAVE MASTERS.
In this same Lagos State, when Engineer Funsho Williams looked likely to win the 2007 elections, he was murdered by "persons unknown".

I want the world to know now that some political personages in Lagos State are making plans to murder me if they can't stop me democratically.

— Babatunde Gbadamosi (@BOGbadamosi) December 7, 2018
Funsho Williams relied on Police protection but he was still murdered, in fact, the very night he went to make a formal complaint to the police at Zone 2 Police Headquarters at Onikan about a threat to his life, he did not live to see the next day

— Babatunde Gbadamosi (@BOGbadamosi) December 7, 2018
My would-be murderers will soon send their minions to come and troll this announcement, to make me look like I'm crying wolf, just as they did to Funsho. My life is at risk, but I will not relent in the quest to free Lagos State from modern day SLAVE MASTERS. Join #TeamBOG2019

— Babatunde Gbadamosi (@BOGbadamosi) December 7, 2018

Load more