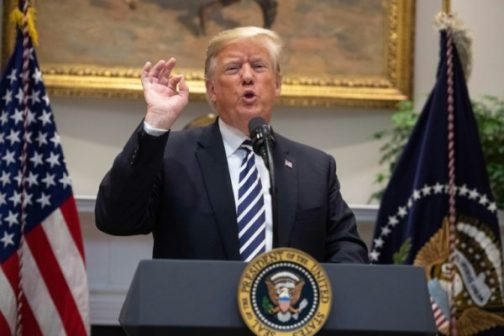 U.S. President Donald Trump said in White House on Friday that he will nominate William Barr as his next attorney general.
"I think he will serve with great distinction,'' Trump said, describing Barr as "a terrific man, a terrific person'' and "my first choice from day one.''
"He will be nominated,'' the president told newsmen on the South Lawn of the White House.
Barr, 68, if confirmed by the Senate, will replace Acting Attorney-General Matthew Whitaker and as a result fill the void left by Jeff Sessions.
Sessions, however, recused himself early in his tenure from the Russia probe and resigned at Trump's request one day after Nov. 6 midterm elections.
Barr, a Republican and corporate lawyer, served as attorney general from 1991 to 1993 under President George H.W. Bush.
A New York Times report said he has long advanced a vision of sweeping presidential powers.
"Barr has criticised aspects of the Russia investigation, including suggesting that Mueller hired too many prosecutors who had donated to Democratic campaigns,'' said the NYT report.
After he graduated from George Washington University's law school, Barr served for the Central Intelligence Agency in the 1970s and later worked in the Reagan White House before leaving for private practice.
In 1989, President George H.W. Bush appointed him to lead the Justice Department's powerful Office of Legal Counsel, later elevating him to deputy attorney general and then attorney general.
After the Bush administration, Barr spent most of his time in telecommunications, joining GTE in 1994 and staying on after it merged with Bell Atlantic to become Verizon Communications Inc.
He is currently working at Kirkland & Ellis as a lawyer.

Load more