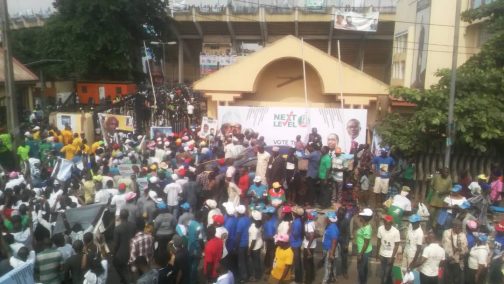 These are indeed happy times for some manufacturers of election-related materials, including various tops, face-caps, hats, ankara, souvenirs, among others, as they are enjoying unprecedented boom in their business.
Investigations on Saturday show that the election, slated for Feb. 16 and March 2, is believed to be responsible for the sales boom experienced by traders and textile manufacturers, as political parties are using the items for their campaign.
Some of the traders revealed that presently, sales of the items had already surpassed 2011 and 2015 elections, being largely driven by the apparent fierce rivalry between the political parties and by extension, their candidates.
A survey at the popular Docemo, Idumota and Oluwole Markets in Lagos shows that T-shirts which previously sold at N9, 500 per dozen now cost N10, 600, while the type that previously sold for N7,300 now sold for between N7,500 and N8,000.
Some of the T-shirts were also sold at N1,800 to N2,500 each, based on quality.
Prices of face-caps ranges between N300 to N1,200, depending on the quality and design.
Mrs Bolanle Tejumola, Managing Director, Tejumola Clothings, said that sales of T-shirts, Polo Tops and face-caps are higher and more profitable in this election year, compared to 2015, which was affected by fluctuation in the Foreign Exchange market.
"Most of the shirts worn by the mammoth crowd at the various campaigns were produced locally, compared to previous years that we relied more on imported items from China and Bangladesh.
"We now have more companies that have gained expertise in these products and we only import few items based on designs or special requests," she said.
Mr Hamma Kwajaffa, Director-General, Nigerian Textile Manufacturers Association (NTMA), corroborated the traders, saying that most of their members reported increased patronage, especially for T-shirts, face caps and even branded Ankara fabrics.
He said that textile manufacturers had experienced increased production activities in the past few months, attributing it to election campaign spending and yuletide celebration.
The Dec. 2018 Purchasing Managers Index (PMI) a survey of the Central Bank of Nigeria, which provides vital information on the current status of manufacturing groups, revealed that Textile Apparel & Footwear Sectoral Group (TAFSG) recorded the most significant improvement with a positive change of 13.9 points.
The Manufacturers Association of Nigeria (MAN) attributed the improved performance of the group in recent times to a number of factors, which include fiscal support and improved local patronage that aided productivity of the sector.
Besides, a visit to Somolu and Mushin, known as the hub for printing in Lagos, revealed that some of the printers were still branding T-shirts, face caps, notebooks, jotters and key holders; for various political parties.
Mr Segun Babaeko, a printer at Somolu, said: "Sometimes, people contribute to produce the branded items as a form of support to the political aspiration of a candidate they support.
"Since Oct. 2018, I have been engaged in the production of campaign items for various party members, because I move close to them and since the job to be done is my area of competence, I get many referrals. ''
However, some of the printers complained that they were sidelined from printing contracts, saying that majority of those involved in the printing process were members of the various political parties.

Load more