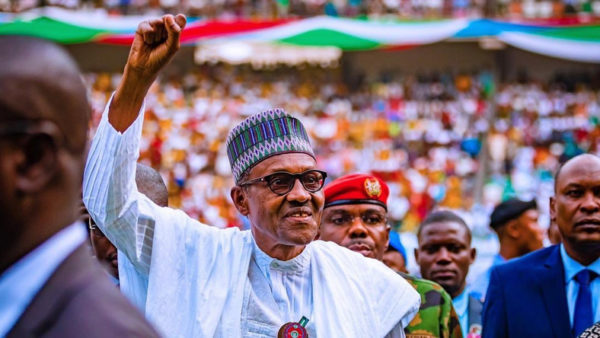 President Muhammadu Buhari on Thursday night rounded off his re-election election campaign in Daura, Katsina State, thanking Nigerians for the huge show of support.
Malam Garba Shehu, the Senior Special Assistant to the President on Media and Publicity, said President Buhari spoke at the palace of Emir of Daura, Alhaji Umar Farouk Umar, in Daura, Katsina State.
NAN reports Shehu as saying that the President was enthused by the show of love at every campaign stop, which had indeed energised him to do more for the country.
''The crowds I saw in every state we campaigned were not rented ones. Money cannot buy them. People turned out en-masse to listen to us and I am encouraged by the willingness of our people to freely choose leaders of their choice and further strengthen our democracy,'' he said.
The President used the occasion of his homage to the Emir of Daura to emphasise his belief that "quality education remained a veritable roadmap to achieve a brighter future for the country.
The President declared that all he had achieved in life was because of the education he received.
The Emir of Daura pledged that the re-election of their son was a task for all Daura people and all Nigerians who desired a peaceful, prosperous and stable Nigeria.
''We believe that President Buhari, our son, has done well for the country and deserves a second term to consolidate on his numerous and remarkable achievements for the good of the country.
'' The 16 district heads and 450 village heads representing religious and traditional leaders in Daura Emirate, have pledged their full support to the President's re-election because he has shown responsible and honest leadership,'' he said.