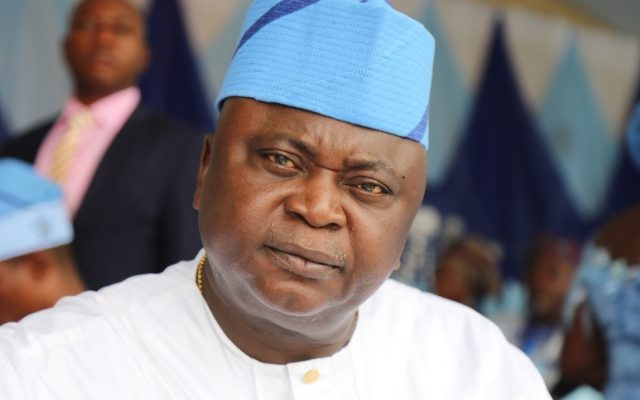 Adejoke Adeleye/Abeokuta
Controversial gubernatorial flagbearer of the People's Democratic Party (PDP) in Ogun State, Ladi Adebutu has vowed to mobilise supports for the ambition of the flag-bearer of the Allied People's Movement (ÀPM), Abdulkabir Adekunle.
Adebutu's adoption of ÀPM candidate was coming on the heels of his legal loss to Senator Kashamu Buruji, candidate of the PDP via a Federal High Court judgement delivered yesterday in Abeokuta.
Speaking to journalist in Abeokuta, on behalf of Adebutu and his alliance team, the PDP factional Chairman, Alhaji Sikirulah Ogundele said the party's adopting of APM candidate was based on his credibility and that of his principal, Gov Ibikunle Amosun.
"PDP of Ogun State still remain PDP of Ogun State and the members are very intact and that has convinced me that we are one in Ogun State and I, as the chairman still remain the chairman of PDP in Ogun State.
"We have just had the thought of considering the credibility, uprightness, the quality, responsiveness of Abdulkabir Akinlade and we have considered it necessarily that Ogun State is a well sustained state where all these qualities that I have mentioned must be taking into cognizant before choosing who will lead us.
"We believe in continuity, we also considered the high level of owned candidate and one would not have expected that a primary four dropout will come and lead us or to be the governor of Ogun state or to be aspiring to be the governor of Ogun state.
"This state has produced two or three Presidents while one was not sworn in, presently we are having vice President and we have first engineer, first in almost everything.
"We have freedom to associate, adopt and to vote for whoever we all think will do it better. Politics is all about responsiveness, credibility, being outright, so we found all that in the APM candidate and as I am speaking with you, the entire state exco members, entire local government exco members and the wards exco members have graciously adopted the candidature of Akinlade.
"And come on Saturday, we have directed our members to and go out and vote for Akinlade because the constitution permits us free association, freedom to exercise our civic right according to our conscience," he said.

Load more