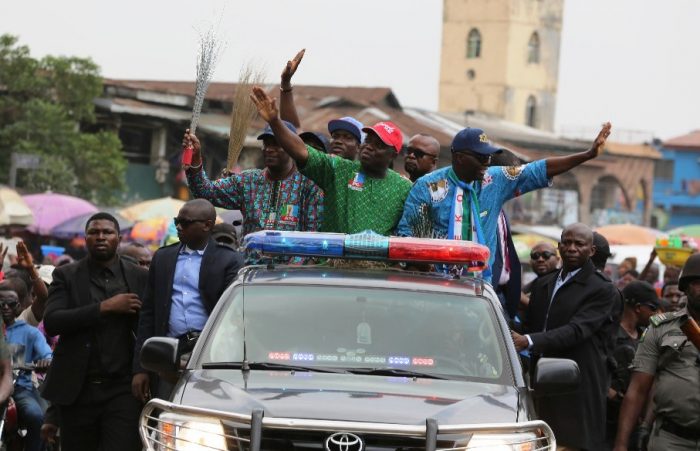 By Kazeem Ugbodaga
Last minutes massive mobilisation is ongoing in Lagos for the All Progressives Congress, APC, governorship candidate, Sanwo-Olu ahead of Saturday's poll.
Sanwo-Olu is slugging it out with perennial fiend, Jimi Agbaje of the Peoples Democratic Party, PDP.
In few hours to the election, Governor Akinwunmi Ambode is massively mobilising civil servants to vote against Agbaje on Saturday.
Many civil servants who live far away and registered in places they would not be able to go to because of restriction of movement have been mobilised to sleep over in nearby places so that they could cast their votes on Saturday.
Many civil servants are 'smiling' and are ready to sleep over so that they could cast their votes for Sanwo-Olu.
Government sources in Alausa told PM News that Ambode had decided to support fully the candidacy of Sanwo-Olu and is hell-bent on ensuring that he emerged the winner in Saturday's poll.
It was gathered that the results of the presidential election in Lagos was not pleasing to the National Leader of the APC, Asiwaju Bola Tinubu, who gave a marching order to all APC leaders to do everything possible to ensure that Sanwo-Olu emerged winner on Saturday.
Also, the threats of the Igbo in Lagos was put into consideration as a result of their large number which could influence the outcome of polls in the state.
After a meeting between Vice President Yemi Osinbajo, Ambode, former governor Babatunde Fashola and other chieftains of the party to cement broken relationships; and with the input of Tinubu, Ambode had decided to go all out for Sanwo-Olu.
In the last few days, the governor was said to have held meetings with several groups, including the Igbo to campaign for votes for Sanwo-Olu. This is asides recent roadshow Ambode embarked on with Sanwo-Olu and his running mate, Olatunji Hamzat.
The Lagos State Government Secretariat had been agog since on Thursday after Permanent Secretaries held meetings with their subordinates to mobilise them for the task ahead with lots of 'goodies' from the governor.
As at Friday, the name of Sanwo-Olu rings bell in Alausa as that is what you hear from civil servants' lips after they have been made to 'smile.'
Government sources had it that members of the House of Assembly, commissioners, permanent secretaries and other top echelons have been well mobilized by the governor for the battle ahead on Saturday to ensure that Agbaje's ambition failed for the third time.
Agbaje has been playing on ethnic sentiment to get the votes of the Igbo in Lagos and has come up with the slogan 'Freedom, Democracy and Lagos' where he has been demonizing Tinubu as a dictator who held Lagos hostage for 20 years.
He has even gone to recruit some civil society members, who have come up with the Kwara's 'O to ge' (It is enough) movement to oust Tinubu's stranglehold on Lagos politics, but analysts are of the view that the Lagos 'O to ge' movement coming less than two weeks to the election will not fly, as the political setting in Lagos and Kwara States were completely different.
More so, those championing the Lagos 'O to ge' movement, according to analysts are doing so at their selfish interest. The foot soldiers are Yinka Odumakin, Sina Loremikun, Dr. Olisa Agbakoba, Tokunbo Afikuyomi, among others.
However, analysts are of the view that Saturday's poll is expected to be keenly contested in Lagos, but that Sanwo-Olu has the advantage to emerge winner. The PDP's candidate, Agbaje is expected to win in the Igbo stronghold of Ojo, Amuwo-Odofin, Ajeromi Ifelodun, Eti-Osa and Surulere, but the APC has gained much ground in those areas and the votes may be close or PDP losing some of its base.

Load more