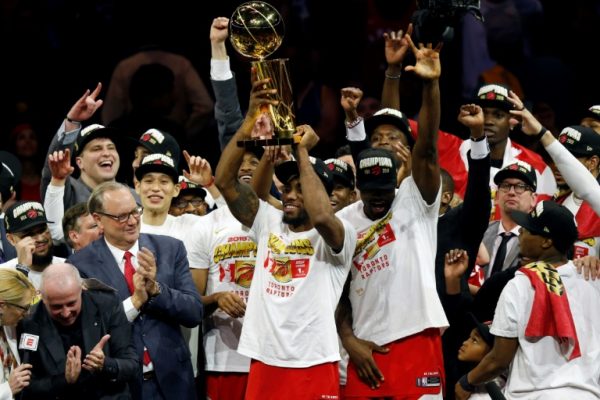 The Toronto Raptors have won their first NBA title in franchise history, dethroning defending champions Golden State Warriors by winning Game 6 at Oracle Arena in Orlando California and stretching their Game Series lead 4-2.
Raptors Kawhi Leonard was also named the NBA Finals MVP, five years after he got the same accolade with San Antonio.
Leonard, acquired by Raptors in a blockbuster trade in the offseason from San Antonio, was on a tear the entire playoffs.
He finished the night with 22 points, six rebounds and two steals.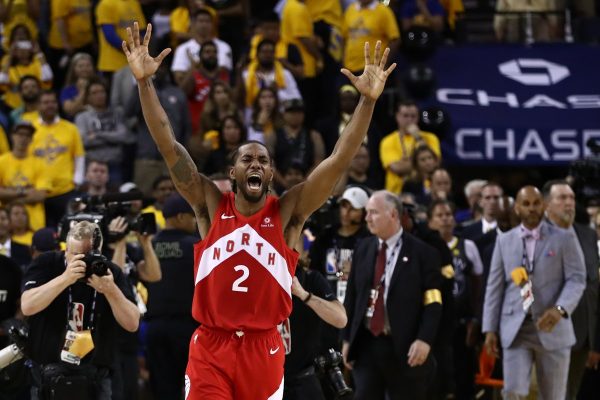 Winning at Oracle Arena for Raptors came with a touch of drama and also left the Warriors a wreck, with another injury sustained by the Warriors' five-time All-Star Klay Thompson.
With less than 10 seconds to play, the Warriors had one chance to take the lead down 111-110. But after a missed shot and a loose ball, Draymond Green picked up the ball and tried to call timeout.
The problem is the Warriors didn't have a timeout, which gave the Raptors a free throw and possession.
Kawhi Leonard made the free throw and the game was over. He also made two more free throws after the technical foul to extend the lead a touch more.
Watch the moment of history:
🔊 The closing call to Game 6 as the @Raptors win their first championship in franchise history! #WeTheNorth #NBAFinals pic.twitter.com/ISWARyxYvI

— NBA (@NBA) June 14, 2019
So, with that, Toronto took down the Warriors 114-110 to win the first title in franchise history.
Fred VanVleet scored 22 points off the bench and made big shot after big shot down the stretch to lead the Raptors to a win.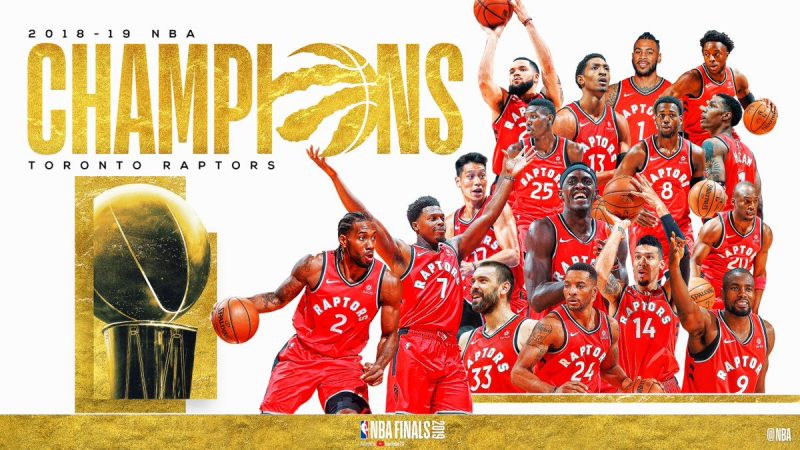 But as inspiring as VanVleet's performance was and the crazy end to the game, the undeniable story on the night was what happened to Klay Thompson.
The Warriors' five-time All-Star suffered a knee injury in the third quarter that knocked him out of the game for good.
He had scored 30 points before he exited the game and was seen leaving the arena on crutches.
It was a heartbreaking moment for a team that has had to deal with injury after injury in the playoffs. Kevin Durant ruptured his Achilles in Game 5 of the Finals, Kevon Looney fractured his collarbone and DeMarcus Cousins tore his quad.
Thompson had also already dealt with a hamstring injury in the Finals. Golden State was very beat up.
Despite that, though, the Raptors gave the Warriors all they could handle this series and won it in six games.
"Last summer I was going through a lot. I just kept working hard and had my mind set on this goal right here," MVP Leonard said. "This is why I play basketball. This is what I work hard for. I'm glad to see it all pay off."
The Raptors became the first Canadian club to win a major North American sports title since the 1993 Toronto Blue Jays captured Major League Baseball's World Series.
"It means a lot for our city and the country and for these players," Raptors coach Nick Nurse said, who didn't mind not winning it at home. "You get the win and you're just happy you got it and celebrate that fact."
The Raptors spoiled the Warriors' farewell appearance at Oracle Arena. Golden State's home since 1971 will be replaced by a new $1 billion venue in San Francisco next season.
"To be able to celebrate with these guys is awesome," Siakam said, his Cameroon homeland flag draped around his shoulders.
"It's a dream to have achieved this," Spanish centre Marc Gasol said. "I've never worked so hard."
"Tough, tough way to go out," Warriors' Stephen Curry said. "I think a lot has been proven about who we are as a team and the adversity we faced throughout the playoff run.
"The DNA and character we have on this team, I wouldn't bet against us being back on this stage next year and going forward."
Andre Iguodala added 22 points for the Warriors, Stephen Curry had 21 and Draymond Green contributed 11 points, 18 rebounds and 13 assists.
"Everybody on this team played with a lot of heart," Green said. "We just came up a little short."
The Warriors failed in their bid for a third consecutive title and to become the first team in 50 years to win four titles in five seasons.

Load more