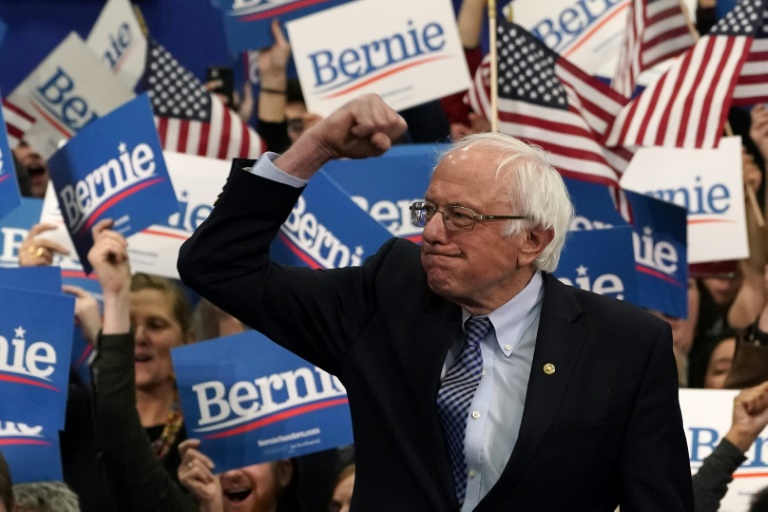 US Senator Bernie Sanders strengthened his front-runner position for the Democratic presidential nomination with a decisive victory in the Nevada caucuses on Saturday, while Joe Biden was on track for a second-place finish that would give his struggling campaign new hope.
A self-described democratic socialist, Sanders rode a wave of backing from a diverse coalition of young and middle-aged voters, Latinos, union members and white college-educated women to a win in Nevada, according to Edison Research, showing signs of expanding support for his surging campaign beyond his longstanding core.
"We have put together a multi-generational, multiracial coalition that is going to not only win in Nevada, it's going to sweep the country," Sanders, a U.S. senator from Vermont, told cheering supporters in San Antonio, Texas.
Sanders' triumph in the first racially diverse state suggests his unapologetic message of social and economic justice, including his signature pledge to provide universal healthcare for all Americans, is resonating with a broader coalition of Democratic voters.
For Biden and other moderates who argue that Sanders is too liberal to beat Trump and who have been trying to blunt his momentum, however, the job has become much harder.
Sanders had 47% of the county convention delegates in Nevada with 43% of the precincts reported. Biden was a distant second to Sanders with 21%, but ahead of former Mayor Pete Buttigieg of South Bend, Indiana, in third with 15%.
Four days of early voting in Nevada this week drew more than 75,000 Democrats, more than half first-time voters, putting the party in position to surpass the turnout record of 118,000 in 2008, when Obama's candidacy electrified the party.
In the final result of a caucus at the famed Bellagio hotel on the Las Vegas strip, Sanders finished with 76 votes, Biden had 45 and no other candidate ended with a vote.
Workers at the hotel, who are members of the Culinary Workers Union, streamed out of the caucus after backing Sanders despite their leadership expressing reservations about his healthcare plan.
"I went for Bernie. I'm not big into politics, but I like the things he's going for: student loan debt, schools, free healthcare," said Aleiza Smith, 22, a housekeeper at the Bellagio.
Sanders was aided in Nevada by strong support from the six in 10 voters who said they backed a government-run Medicare for All, the Edison entrance poll showed.
The entrance poll showed that Sanders led in Nevada across all age groups except for those older than 65. Around 54% of Latino voters said they backed him, while 24% of college-educated white women and 34% of those who have a union member in their families supported him.