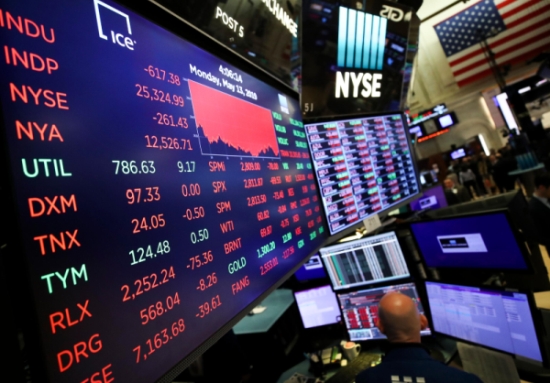 The United State stocks closed sharply lower on Tuesday, continuing a broad market sell-off amid rising risk-averse sentiment.
The Dow Jones Industrial Average lost 879.44 points, or 3.15 percent, to 27,081.36. The S&P 500 was down 97.68 points, or 3.03 percent, to 3,128.21. The Nasdaq Composite Index decreased 255.67 points, or 2.77 percent, to 8,965.61.
All of the 30 Dow component companies closed in red territory, with American Express and United Technologies shedding 5.69 percent and 5.30 percent, respectively, the top two laggards.
All of the 11 primary S&P 500 sectors traded lower. Energy and materials declined 4.34 percent and 4.30 percent, respectively, leading the laggards.
Investors fled the U.S. stocks market as anxiety over the coronavirus outbreak dented risk sentiment, analysts have said.
The yield on the benchmark 10-year Treasury note, which moves inversely to price, fell to 1.32 percent, a record low.
On the data front, U.S. consumer confidence rose less than expected in February.
The Conference Board Consumer Confidence Index came in at 130.7, up from 130.4 in January.
The Present Situation Index, which is based on consumers' assessment of current business and labor market conditions, decreased from 173.9 to 165.1, according to a report released by The Conference Board. (Xinhua/NAN)