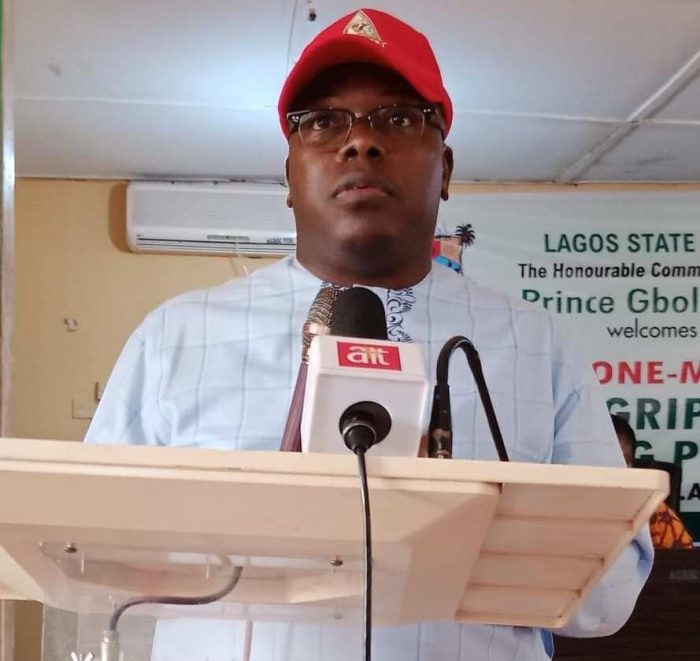 Lagos State Government has said that it is building modern agriprenuers who would in turn drive further its e-agriculture policy of digitalizing sales and marketing of agricultural produce.
The State Commissioner for Agriculture, Prince Gbolahan Lawal who said this during a visit to the trainees of the on-going one-month Lagos Agripreneurship Programme at the Agricultural Training Institute, Araga, Epe Local Government explained that the new crop of farmers undergoing the training would be the pioneers of the Government's e-agriculture policy which will see to the trading of agricultural produce using all social media platforms as marketing tools.
According to Lawal, the use of digital marketing would greatly enhance sales which will in turn translate to farmers getting more profit for their efforts while widening their scope of agriculture from the traditional method of farming to a more advanced farming system.
The Commissioner pointed out that digitalizing agriculture would arouse the interest of more youths into the sector and as a result more jobs would be created, unemployment reduced, economic activities enhanced, crime rate within the State reduced and above all help achieve the State's target of producing at least 25% of the food consumed by residents of the State before the end of year 2025.
"This training is expected to produce 2000 'laptop carrying farmers' and Agripreneurs in 2020 who would in turn become job creators thereby promoting food security and improving the nutrition and general well-being of Lagosians. We would take over the digital space by using all social media platforms to market our agricultural produce as a result more profit will be generated and many more youths would express interest in the Agricultural sector", Lawal noted.
The Commissioner urged the trainees not to limit their scope to local agribusiness alone, adding that the diaspora markets were seeking more African food stores that would be able to produce or supply food peculiar to Africa.
According to him, government on its part would partner with existing farms and agribusinesses with a view to attaching participants to agribusinesses closest to their location of residence for internship pending linkage to sources of finance.
"Government would also facilitate access to financing through the Lagos State Employment Trust Fund (LSETF), CBN Intervention programmes such as Anchor Borrowers Programme (ABP), Accelerated Agricultural Development Scheme (AADS), Agribusiness/Small and Medium Enterprises Investment Scheme (AGSMEIS), and the World Bank Assisted Projects such as the Agro-Processing Productivity Enhancement and Livelihood Improvement Support (APPEALS) Programme among others," the Commissioner said.
Similarly, the Special Adviser to the Governor on Agriculture, Ms. Abisola Olusanya also charged them to stay committed to agriculture as there are several potentials to be exploited in the sector.
Speaking on behalf of the trainees, Mrs. Fatimah Sanni expressed her gratitude to the State Government for introducing the Lagos Agripreneurship Programme and promised that they all would take advantage of all that would be taught at the training and would make the State proud.