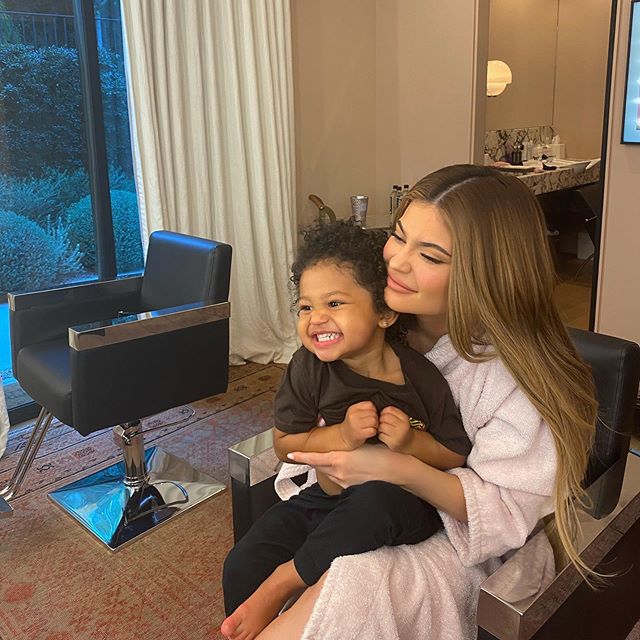 Makeup entrepreneur Kylie Jenner and her American baby daddy rapper Travis Scott, are proud parents today due to the feat their daughter Stormi has achieved.
Stormi in a video was told by her mum to not eat chocolates in a bowl placed in front of her until Kylie returned. See the hilarious stunt the two year old pulled in the video below as she chanted patience.
https://www.instagram.com/p/CAErDMyHnMO/
See reactions on Twitter
I hope my future kids will one day do something as cute as the Stormi Webster fruit challenge video but I can't see it. I'll probably end up with a video of them eating the whole lot, smashing the empty bowl into my vinyl collection and calling me a dick over and over again.

— John Bradley (@johnbradleywest) May 12, 2020
Some kids waiting for their mum to go to the bathroom before they start stealing the chocolates. #stormi pic.twitter.com/keyRj8stLR

— Uromi BOY (@OdineAbraham) May 12, 2020
okay i cant help but love kylie and stormi's relationship!! stormi is so smart for a gir her age and her speech is perfect!! if kylie hasn't raised her right idk who could've done it better pic.twitter.com/nFIsNSr01e

— ♡ (@pterparkerss) May 12, 2020
☺☺☺Stormi And Patience pic.twitter.com/oWeTJHKPks

— @SeanZa_ Cold Hearted Niqqa. (@SeanZa17) May 12, 2020
Say what you want about @KylieJenner but she is an incredible mother and Stormi is a god damn angel. That video of her waiting to eat the chocolate. Her speech is incredible for a child her age! (And as a Speech Pathologist I notice these things!). Gimme more Stormi content!!!

— Jennifer (@jgoldd) May 12, 2020
Travis and Kylie welcomed their 2 year old baby girl Stormi Webster in 2018.

Load more