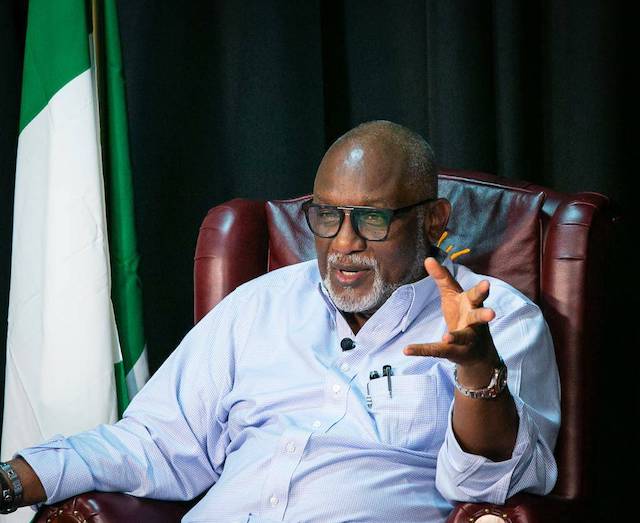 It appears the plan to unseat Governor Rotimi Akeredolu of Ondo State has run into some bad weather.
His opponents within the APC family, under the umbrella Unity Forum, are fighting over
the emergence of Chief Olusola Oke as its consensus candidate.
He is expected to compete with Akeredolu in the primary.
Oke was unveiled by Alhaji Ali Olanusi, who has vowed to unseat Akeredolu.
"The forum, by the content of the report, has adopted Chief Olusola Oke, SAN, as the candidate of the forum. The leaders and members of the forum are hereby enjoined to begin mobilisation across the state for the candidate of the forum," Olanusi said.
But no sooner Olanusi nominated Oke than other members of the Unity Forum shouted disagreement.
Those that opposed the emergence of Oke were Secretary of the forum Dapo Adelegan, Prof. Sola Ehindero and Deputy Senate Leader Robert Ajayi Borofice.
Senator Borofice, the patron of the forum, rejected the emergence of Oke and urged aspirants to prepare for the primaries.
A statement by Borofice's media aide, Kayode Fakuyi, said: "The media report suggesting that Unity Forum has adopted a consensus candidate to represent it in the Ondo APC governorship primary election is misleading. The fact is that Unity Forum has no consensus candidate. This is premised on two fundamental reasons.
"Firstly, the political tendencies in Unity Forum could not agree on critical processes that could have led to the adoption of a consensus candidate. For instance, while some members opted for zoning, some disagreed. Recently, aspirants participated in a zoning process and the majority agreed that Ondo North Senatorial District should produce the consensus candidate.
"Secondly, when the idea of consensus candidacy was mooted, the understanding was that all seven members of the Governorship Candidate Selection Committee must unanimously agree on a consensus candidate. The condition has not been met.
"Therefore, it is the opinion of the majority of leaders and members of Unity Forum in Ondo North Senatorial District and other parts of Ondo State that Unity Forum is yet to present a consensus candidate."
Prof. Ehindero described the announcement of Oke as the consensus candidate as fake news.
Akeredolu has declared intention to seek a second term.
He said he would not reconcile with members of the forum or any other aggrieved group in the Ondo APC.
*Read the original in The Nation

Load more