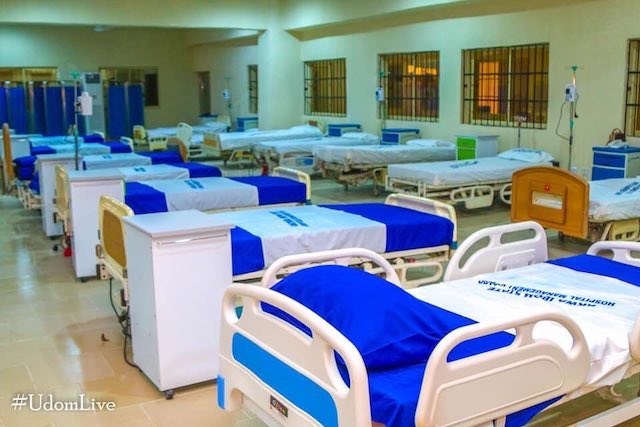 By Abankula
Akwa Ibom state has become the latest hotspot for COVID-19 infections, outside of Lagos as the third wave of the virus rages.
Daily COVID-19 figures published by the Nigeria Centre for Disease Control (NCDC) showed that the state has become the virus epicentre, in the eastern part.
It has 587 active cases, next to Lagos's 4,811 as at 31 July.
The third state with the most active cases is Oyo with a distant 212 cases. Rivers has 162 cases.
On Saturday, Akwa Ibom again logged 80 new cases, second to Lagos, which reported 211 cases.
In the last one week, Akwa Ibom has tailed Lagos in daily cases reported.
From figures published by the NCDC, the state recorded 398 cases in the last one week.
Ninety-six cases were reported last Monday, 142 on Wednesday, covering Tuesday as well, 26 on Thursday and 54 on Friday.
These were followed by 80 cases logged on Saturday.
On 22 July, the Akwa Ibom government said it was reviving proactive steps to curb the virus.
This was after 156 cases were recorded in two weeks, from just five in the previous weeks.
The Secretary to the State Government, Emmanuel Ekuwem, who is the chairman of the State's COVID-19 Committee, said three deaths were recorded.
"This increase, when considered in the light of the new Delta variant of the virus, which has now been isolated in Nigeria, calls for a renewal of our collective effort at preventing the spread of Covid-19 virus infection in our state," Ekuwem said.
The state certainly has more to worry about.
On Saturday when the NCDC gave the breakdown for COVID-19 deaths recorded on Friday, Akwa Ibom had two of the eight reported. Its death toll is now 26.
The state has also moved up on the grim chart as the 14th state most affected by the virus with 2,550 cases.
As at 21 March this year, the state had 1,736 cases and was 20th on the chart.
Akwa Ibom rising grim profile comes as the NCDC registered additional 497 COVID-19 cases, said to be driven by the spread of the Delta variant.
The new infections indicated a decrease from the 590 cases announced on Friday.
The NCDC said there were no additional COVID-19 related death on Saturday, keeping the death toll at 2,149.
Apart from Lagos and Akwa Ibom, the 497 new cases were reported from 15 states and the FCT.
Here is the breakdown:
Lagos-211
Akwa Ibom-80
Kwara-73
Osun-29
Oyo-17
Rivers-17
Cross River-15
Edo-14
Anambra-9
Ogun-8
Ekiti-6
Bayelsa-4
FCT-4
Plateau-4
Bauchi-2
Nasarawa-2
Kaduna-1
Jigawa-1
173,908 confirmed
164,994 discharged
2,149 deaths
And here is the cumulative table for the states: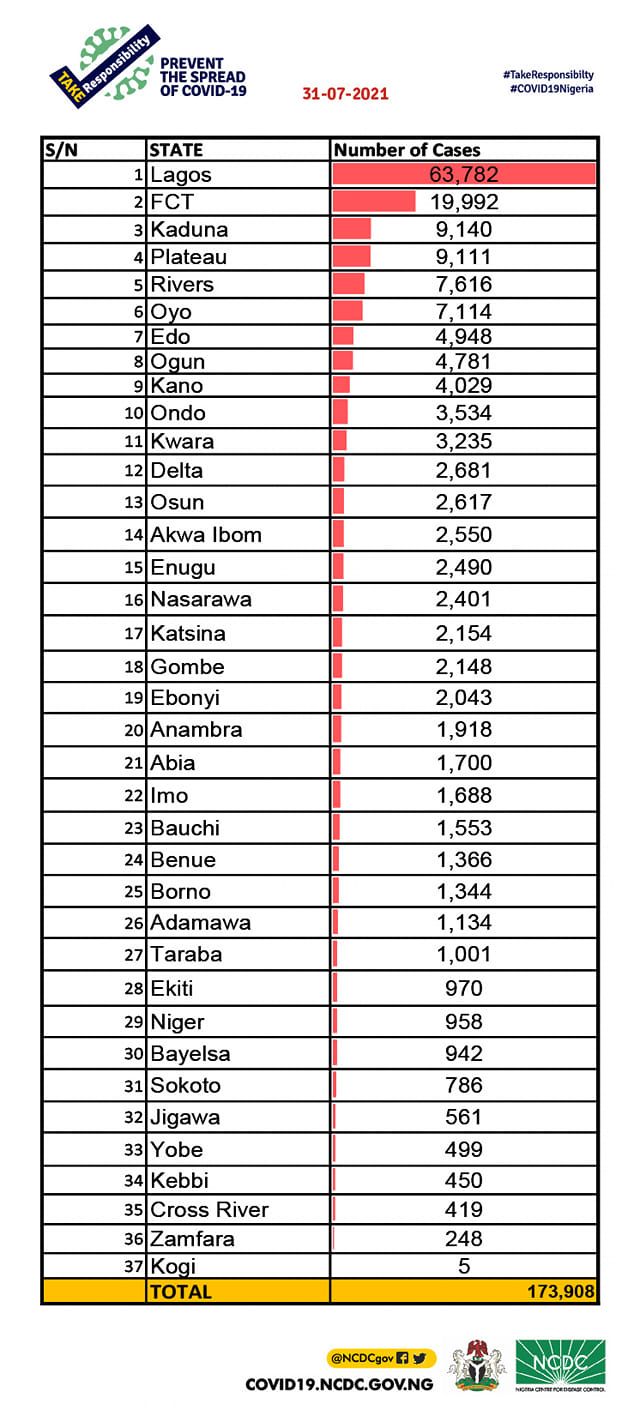 Load more