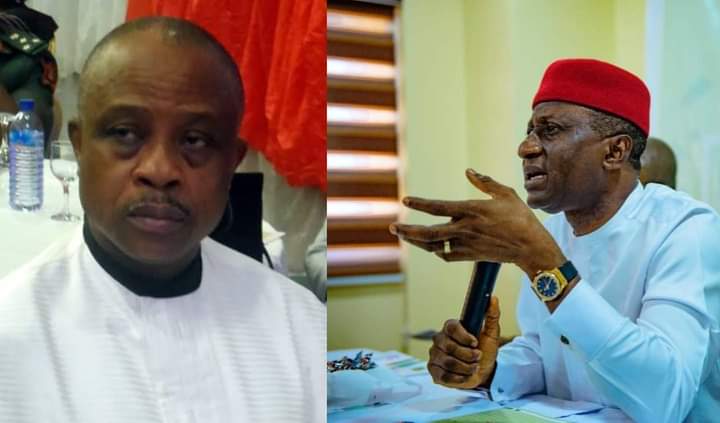 Minister of State for Mines and Steel Development, Dr Uchechukwu Sampson Ogah has taken a swipe at Enyinnaya Harbour and others parading themselves as factional leaders of APC in Abia.
The minister, via a statement signed by Mr Demian I Igbokwe, SSA( Special Duties), cautioned Harbour and his team to control their orgy of madness.
Ogah made this known while responding to an online publication with the caption, 'Steel Minister Uche Ogah Causing Crisis in Abia APC — Chairman' sponsored by one Enyinnaya Harbour.
However, Ogah described Harbour as chairman of a non-existent faction of APC.
The minister "wondered what brought about his name in the desperate attempt by a few feather-weighted individuals to lay claim to the leadership of the party in Abia."
The minister insisted that there is only one constitutionally recognized leadership of APC in Abia led by Hon. Donatus Nwankpa.
He said:
"For anyone, who cares to know, the Hon. Nwankpa-led State Exco remains the only State organ of the Party chosen by the people and recognised by all levels of the Party hierarchy. This group of Exco members, which has led the Party through thick and thin, including when the Party had not much to offer for services rendered on its behalf, has acquitted itself justifiably in the eyes of the entire APC faithful in Abia State. What then is the justification for an Enyinnaya Harbour, who is known not to possess the ability or political clout to win any election even in his Ward, to begin to lay claim to being "Factional Chairman" of APC in Abia State? Is there no limit to madness? Or must all manner of stupidity be displayed to the world in the name of politics?
"To put it more succinctly, if not for misleading politicians like Ikechi Emenike and a handful of co-travellers in his tour of mischief, where would the like of Enyinnaya Harbour muster the confidence and courage to put himself across to discerning minds as "Factional Chairman" of Abia APC, when, in fact, he knows that Emenike, the State Mischief Maker-in-Chief and his benefactor, has with the aid of funds provided by the ruling PDP in Abia State continued to instigate crisis to destabilise our Party.?"
The Minister insisted that the allegation is spurious and riddled with falsehood from the pit of hell.
He added that Ikechi Emenike who was earlier suspended by the leadership of Abia APC is the one instigating imaginary trouble just to accord himself relevance.
Load more