For Borno people, vengeance belongs to God, as they agreed at a meeting on Sunday to forgive Boko Haram terrorists who had been waging guerrilla war against the state since 2009.
But the hardened terrorists will be separated from the truly remorseful ones.
The meeting was called by Governor Babagana Zulum, after 3,900 terrorists surrendered to Nigerian and Cameroonian authorities.
Zulum wanted the stakeholders that included the security agencies, lawmakers, traditional rulers, religious leaders, academics and civil rights groups, to take a common position about how to deal with the repentant terrorists.
At the end of the meeting, the stakeholders advised the Federal and Borno Governments to handle the repentant insurgents with utmost care and within the instrumentality of the law.
The meeting, according to the communique, also stressed the need for proper profiling of the Boko Haram insurgents to avoid hasty release of hardened elements into the society.
The stakeholders urged the Federal Government to set up a world class de-radicalisation rehabilitation centre in Borno state, while also calling for enhanced support for victims of the insurgency.
The meeting suggested the disarming of the repentant terrorists and urged the military to sustain the offensive against ISWAP members.
It also agreed to get the North East Development Commission involved in the "all aspects of the rehabilitation and integration of surrendered Boko Haram into the mainstream society".
A victim of the insurgents, Alhaji Modu Gujja, who lost his parents, wife and children and relations still missing attended the meeting.
He said he has left vengeance to God, and would support any process that would bring lasting peace to Borno.
The Shehu of Borno, Alhaji Abubakar Umar-Garbai, representatives of Muslims, Christian Association of Nigeria (CAN), organised labour, NBA, NUJ, CSOs and Women groups, were all at the meeting.
The full communique: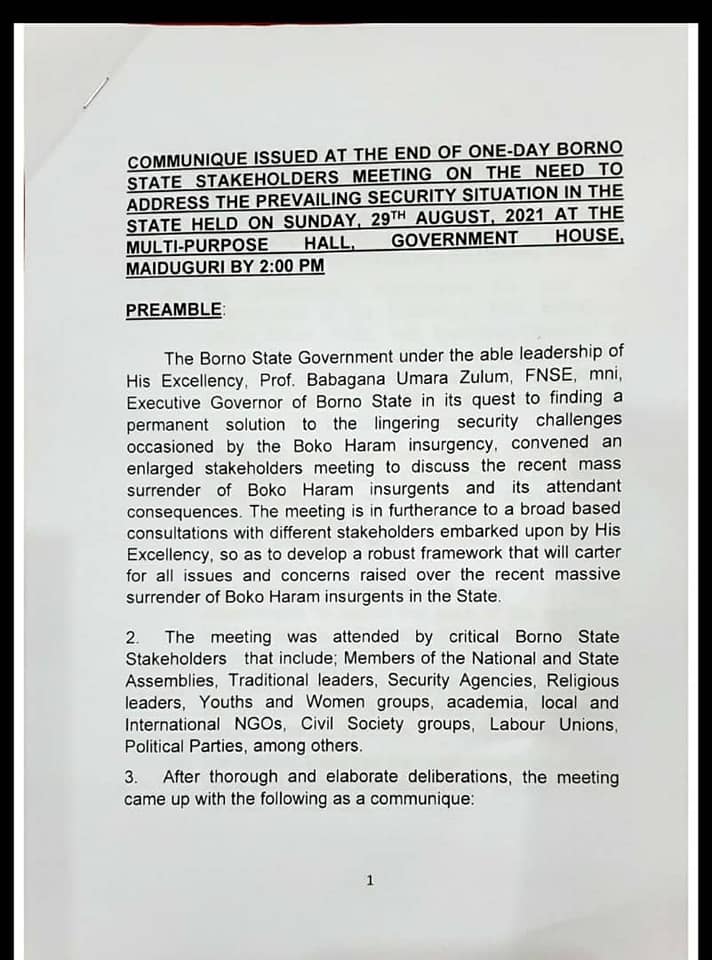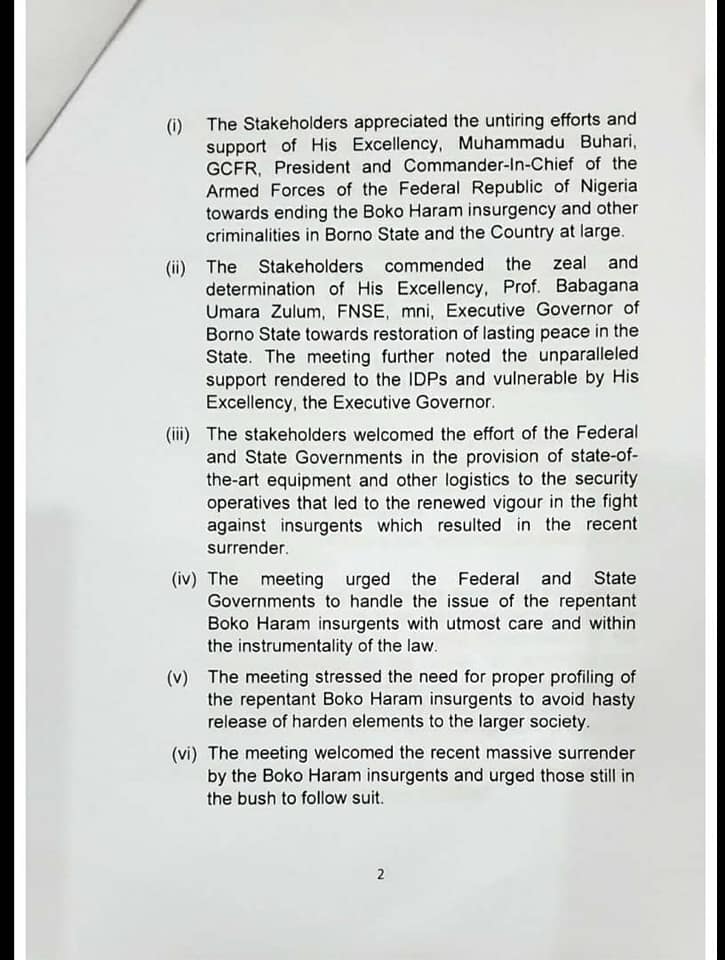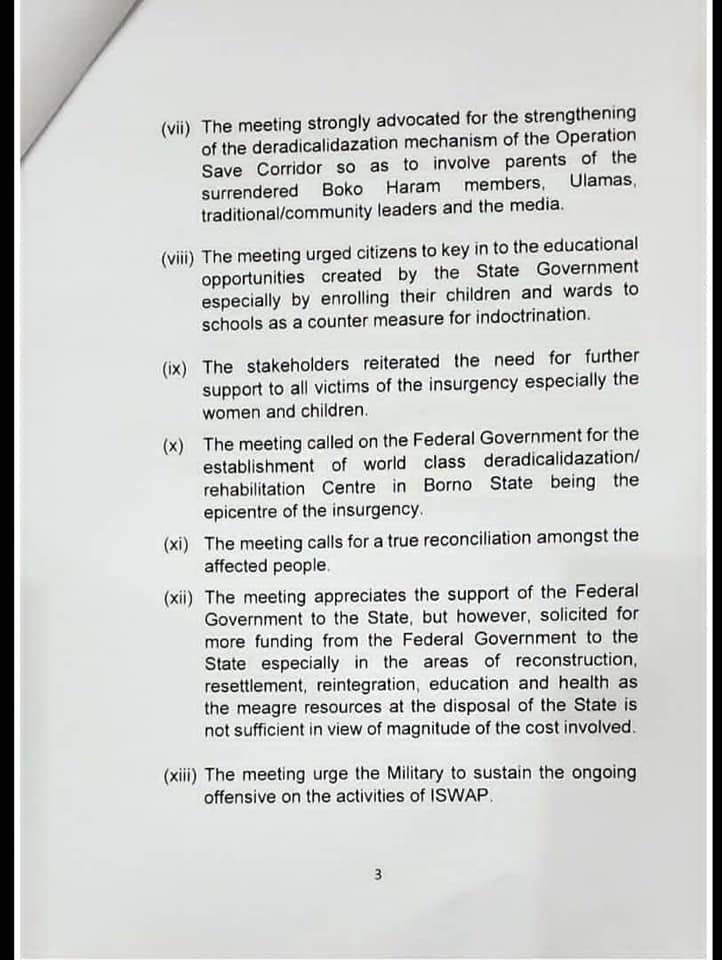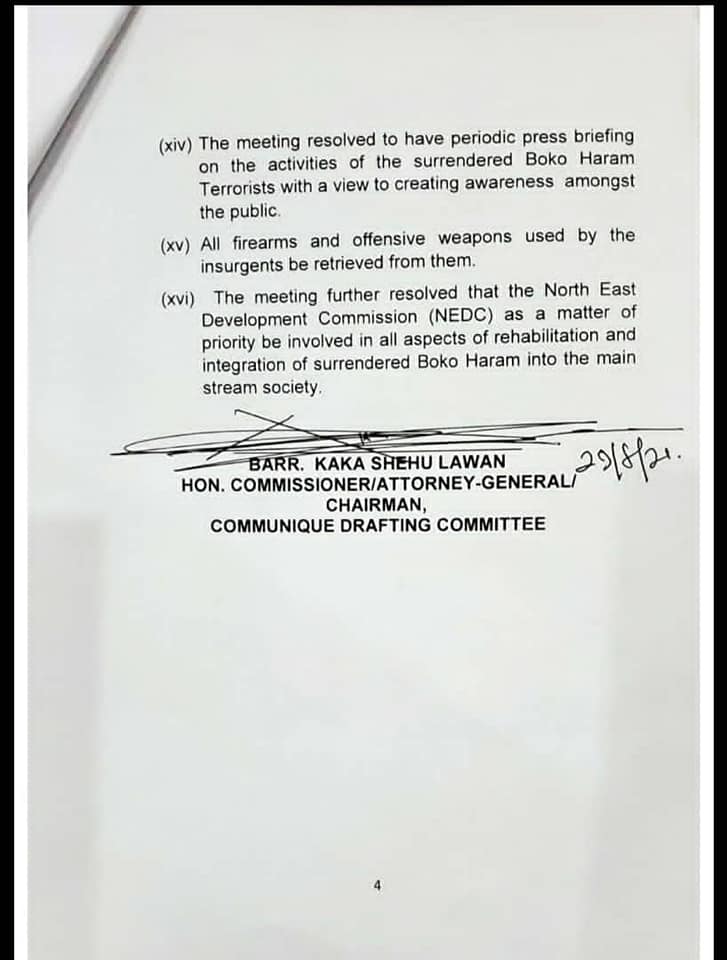 Load more