A Kenyan archdeacon John Njogu Gachua has been suspended by his bishop after failing to comply with the bishop's demand that he marry within six months.
The suspension of the Ven. Gachua by the Rev. Joseph Kagunda, Bishop of Mt Kenya West, is the latest development in the five year battle between the bishop and the archdeacon.
On 21 December 2021 Bishop Kagunda wrote to the archdeacon and his parish, St John Gichami ACK, saying Archdeacon Gachua was suspended from office effective January 1.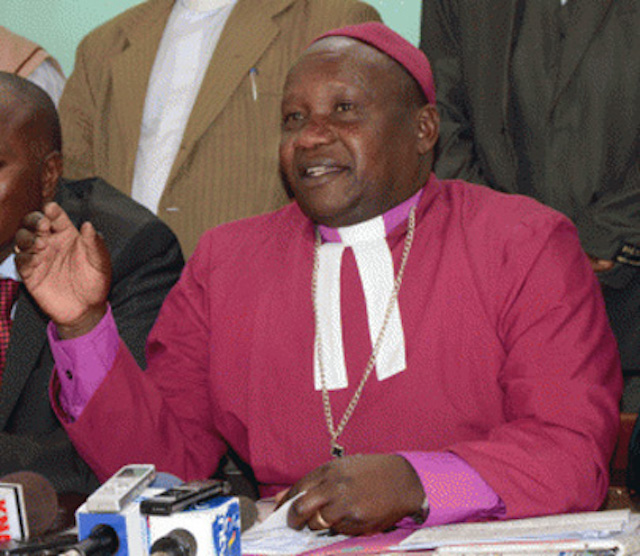 When the new priest appointed by the bishop came to celebrate on the Second Sunday after Christmas, the congregation refused to allow him to enter the church, and presented him with a letter demanding the reinstatement of Archdeacon Gachua.
If the bishop declined to accept their request, the congregation threatened to withhold their financial contributions to the parish.
The suspension of Archdeacon Gachua is the latest twist in the dispute between the two.
In 2004 Archdeacon Gachua ran a close second to Bishop Kagunda for election as bishop of Mt Kenya West.
While their relationship was distant after the election, they only claim to blows in 2015 when the bishop dismissed the archdeacon and two other priests following an irregular ecclesisatical trial, accusing them of being homosexuals.
The three responded by filing suit against the bishop for defamation, and for failing to follow canon law in his bid to dismiss them.
In response to the allegations the archdeacon's wife left him, embarrassed and angered by the allegations that he was a homosexual.
In September 2016 a civil court found Bishop Kagunda had violated canon law and procedure and ordered the clergy reinstated with back pay.
The decision was appealed but in July 2018 the Labour Court in Nyeri affirmed the decision, and further ordered the arrest of the bishop for civil contempt.
A civil court in November 2019 awarded the three clergy Sh6 million in damages, and ordered the bishop to reinstate the clergy or be jailed for contempt.
The bishop allowed the priests to return to their parishes, but set a condition that to show they were not homosexuals, they had to be married within six months.
Last month the bishop sacked the archdeacon again for failing to reconcile with his wife or to find a new one.
The case continues.
Bishop Kagunda is slated to retire later this year.
Reported by Anglican.ink
Load more