The Lagos State Government on Wednesday unveiled eight tricycles purchased by indigent Badagry beneficiaries of the Federal Government's Conditional Cash Transfer (CCT) programme.
Under the CCT programme, each beneficiary receives N10,000 bi-monthly to be invested in small-scale business enterprises.
Lagos Commissioner for Wealth Creation and Employment, Mrs Yetunde Arobieke, while unveiling the tricycles in Badagry, said the three wards in Badagry namely; Akoro (Badagry West LCDA), Iworo-Igbanko (Badagry LGA – Central) and Isalu-Iyafin (Olorunda LCDA) embarked on the contribution of N10,000 per beneficiary household from the on-going bi- monthly payment cycle.
She disclosed that the sum of N4,170,000, N3,940,000 and N2,020,000 respectively were contributed by the councils.
"They eventually procured eight (8) tricycles in the sum of N1,300,000.00 each totalling N10,130,000," she said.
The commissioner explained that the Federal Government realized that the level of poverty in Nigeria was unacceptable and immediately took bold steps to reduce the poverty rate in the country by adopting the strategy of social protection of the poor and vulnerable with a view to reducing poverty and socio-economic vulnerability among the population.
She stated that this resulted in the partnership with the World Bank under the National Social Safety Nets Project (NASSP) to support the beneficiaries with a bi-monthly stipend of N10,000 given to caregivers of identified households in the National Social Register (NSR).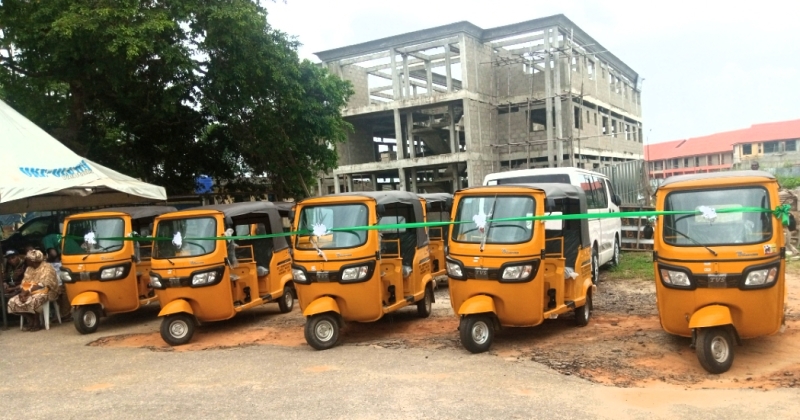 Arobieke said she was elated that while the beneficiaries of CCT in Lagos State had received the bi-monthly cash stipends from this programme since 2020, they had further been availed with capacity-building skills through the Savings & Group Mobilization (SGM) training which had been in no small measure brought immense benefits to improve their livelihoods, which she said culminated in the result of the success stories recorded across the current 12 targeted LGAs/LCDAs.
The commissioner explained that as part of the institutional arrangement, the Cash Transfer facilitators who were drawn from the LGs and LCDAs of the wards where the beneficiaries were enrolled, stepped down the SGM training in 2021 in a six months duration for the beneficiaries of the programme to build their capacity.
"The main goal of SGM learning sessions is to help CCT beneficiaries to gain knowledge and skills on how to mobilize savings and start groups as well as manage their groups effectively because the members of the household are largely poor and illiterate and as a result, they have poor savings culture and not able to harness resources due to inadequate skills for economic activities," she added.
Arobieke said her joy knew no bounds "because this is the most laudable success story ever recorded in the implementation of CCT in the 12 targeted LGAs of the State, and the rippling effect on the economy of Badagry cannot be quantified. This is why I have come here personally to commission this achievement to the glory of God and for the benefits of our people."

Load more