Engineer Ibilola Kasunmi is the Lagos State Permanent Secretary, Ministry of Science and Technology. In this interview, she spoke extensively on the re-launched Lagos Identity Card ( LAG ID) by LASRRA, its features, usefulness and why Lagosians need to register and get revalidated. 
Recently you did a relaunch of LAG ID identity card, can you tell us about it?
The relaunch was aimed at re-presenting the Lagos State Residents Identity Card, so it's been upgraded from a plastic card to smart card that has benefits features. It comes with a chip and a bank account. The chip can actually perform 28 different functions because it has the ability to cover the role of 28 different cards, so we can actually have 28 different functions, whether they are government or for access or whatever. It comes with the identity of the holder, their biometric details are on the chip; you can use it as well for transport, right now, those are the three aspects that are activated, though it will be used for other services as well.
Did you mean that if I have the card, it can serve as ATM?
Yes, you can use it at any ATM to collect money, it comes with a bank wallet, we are working with Sterling Bank at the moment. The bank is committed to reproducing the first three million cards. So the card actually comes with a Sterling Bank wallet account which you can load and fund from any of your existing account and you can use it as a payment card, you can use it to withdraw at any ATM point, you can use it to pay where there are POS machines and you can even use it online.
Before this relaunch, you have millions of people who had registered, what did they need to do?
They need to validate their records because registration started actively as far back as 2013, so in order for us to ensure that we are not just printing cards for people who are not actually in Lagos anymore or people who may have passed away, we need the to residents to go to the website, www.lagosresidents.gov.ng to go and validate their records. That is just telling us, that number one, you are still alive and number two, also to ensure that the information we have about you in our database are up to date. So that is why we are going on the validation drive that every single resident that registered before now should please go to the website to go and validate their records.
So far, what has been the response?
Currently we have about 6.7 million record in our database now and those that have validated so far are 1.3 million.
Do you think that is low?
It is low but with advocacy, I believe we can achieve more, what has happened was that people that registered before 2018 will also need to be recaptured, their pictures need to be taken, what has happened is that a lot of people start validation process, but they don't complete it because they think all they need to do is to go to the website and validate their records, whereas, a code will be generated after that validation process that tells you that you need to go back to our centre to get recaptured and therefore don't go into the live registry. What I am trying to tell residents now is that they should please be patient, after they start validation process they should make sure they read every text message that emanates from that process to the end because what happened is that a lot of people don't complete their registration by going to get recaptured and therefore don't go into the life registry.
Have you started issuing out the new cards?
Yes, we have.
What have you put in place to sensitise residents on the need to validate their cards and register?
It is all about advocacy and what they stand to gain by registering, it is not what we will do when they don't register, it is more about what they stand to gain, we are encouraging people, we have enrolment partners, we have mobile teams that go into the communities to perform these registration. So not everybody is expected to come to us, if they don't come to us, we have to go to the residents in their communities. So we are working on that with some private sectors participants as well that are carrying out this registration on our behalf, we will start with market activation first within the next couple of weeks where we will go into the markets, we have already met with most of the Iya Olojas and Baba Olojas, and so we are going to start the advocacy to sensitise them and also to carry out this registration and the same thing will be done within the Community Development Areas, and also the riverine communities.
If I don't register what do I stand to lose? And if I register what do I stand to gain?
If you don't register, you don't benefit anything. If you register, there are so many benefits, number one, you are financially included already. Because now there is a valid and authentic way in which people actually can identify you, because of the 'know your customers,' which is being carried out by financial institutions, this has already been incorporated into it, you have access to loan, access to grants, anything Lagos State is doing. It is supposed to be for Lagos residents, it is not for outsiders to come and benefit from. If for instance, the Lagos Employment Trust Fund, they have some kind of benefits which you can gain or grant which will be handy for a small scale business, you will have access to it just by being a Lagos State residents, The same thing, bursaries, you have social and welfare benefits, there are so many benefits attached to it. For our pensioners, discount for using the Lagos State transport services, either the buses, waterway services, you have the health insurance, so there are so many benefits. Really our general hospitals are meant to be for tax-paying residents, so if you are not registered as a Lagos State resident, you will need to pay for services outside what you are entitled to and as we go along, some other benefits will be added to it. For now, Sterling Bank is going to allow people have some credit facilities on the Lag ID, even if you have zero balance, you will not be stranded, you are at least be allowed to take one more ride on our Lagos Transport system and when you are ready, you can pay that off, but what it means is that you will never be stranded, so we have all these value added services as well and many more to come.
Why Sterling Bank and not the big banks?
Because Sterling Bank took a leap of faith with Lagos State Government.
What is your biggest challenge so far?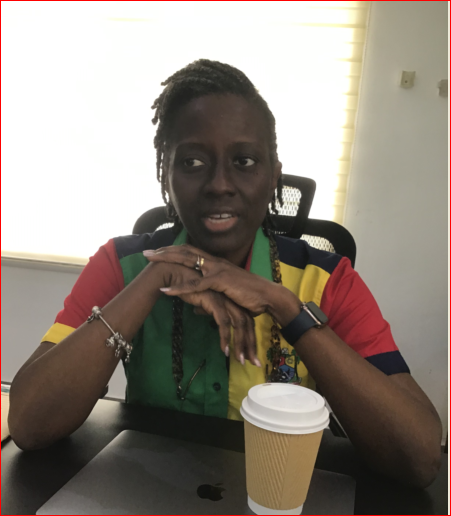 It is global shortage of everything, what has happened globally, the after-effect of covid, number one, there is global inflation, and cost of materials have gone up. When we started this project, we already have an approval earmarked for this, things have doubled, things that have not doubled, there is scarcity, like the chips, I am talking about chip that come with the card, there is scarcity. There is scarcity of chip modules right now because most of the chip modules come from China. China has been crippled, I mean the manufacturing aspect and this has been affecting us, so the rate of production and what we envisage and how fast we could move, all of these global issues are affecting us as well, so that is one of the challenges we face.
In the next 10 years, where do you want LASRRA to be?
Well, it will be the focal points for all services in identity management in the state. There is just one card you need to access government services in the state, it is not just targeted at government services but also private sector as well. If we continue on this path that we started where database is taken as authentic and is genuine and unique, then it is a one-stop-shop for any services in Lagos State. That is where we see ourselves.
How many points do you have right now where people can access the registration?
We are in 55 LGs and LCDAs right now, we have 16 mobile partners, each of them with a minimum of five registration equipment, they can move around town, so that is given us a minimum of 80 private sector participants that are moving around Lagos. We have 55 and a mobile team of about 20 as well that are moving around to carry out this registration.
Do you think you have enough funding to drive this project?
Yes, like I said, we are working with Sterling Bank in the production of the cards. Sterling Bank is actually funding the production of the cards and all. Obviously we are going to have similar partnership where they will be the one to fund this project as well, so funding is not a problem.
Between now and the end of this administration, what do you want to achieve?
We are going to drive our registration enrolment, hopefully between now and before the end the year, we are going to have about 10 million record in our database.
Load more