Lagos State Governor, Babajide Sanwo-Olu on Thursday presented a budget of N1.69 trillion to the State House of Assembly for approval for the 2023 fiscal year.
This is N66 billion lesser than the 2022 budget which stood at N1.758 trillion.
The 2023 budget tagged:  'Budget of Continuity' comprises a Total Revenue of N1,342,670,649,640 and Deficit Financing of N350,000,000,000.
The budget comprises total Internally Generated Revenue (IGR) of N1,108,435,649,640 and Total Federal Transfer of N234,235,000,000.
Sanwo-Olu added that the budget has a recurrent expenditure of N759,958,569,792, comprising Total Overhead Cost of N403,653,328,479; Total Personnel Cost, N247,295,312,088 and Recurrent Debt Service, N109,009,929,224.
The N403,653,328,479 Total Overhead Cost is broken down into Overhead, N221,957,283,661; Subvention, N93,501,258,220 and Dedicated, N88,194,786,596.
The 2023 budget has a Capital Expenditure of N932,712,190,102, comprising capital expenditure, N670,134,079,150 and Repayment, N262,578,110,952.
"The budget size is made up of recurrent expenditure of N759,958,569,792 (45%) and capital
expenditure of N932,712,190,102 (55%).The deficit financing shall consist of external and internal loans and bonds which are well within our fiscal sustainability parameters," Sanwo-Olu said.
In the sectoral breakdown, Economic Affairs has the highest budget of N339,482,825,430 which represents 20.06 percent of the budget, while General Public Service came second with N308,363,331,313, representing 18.22 percent of the budget. Education came third with N153,445,318,140 (9.07%) while Health came next with N67,358,643,068.
See the full breakdown below: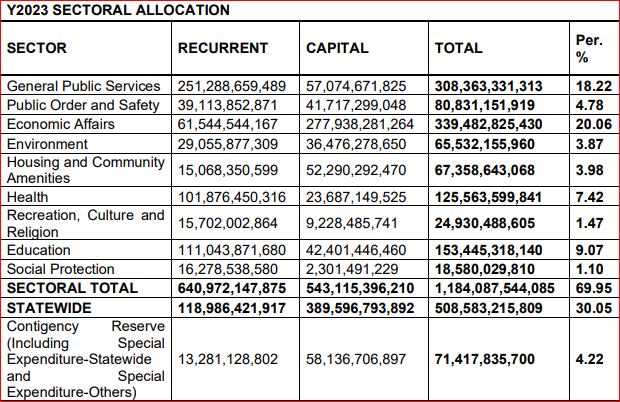 However, Sanwo-Olu lamented that Lagos had continued to experience increased pressure on social services
due to unhindered migration to our State.
"It is for this reason that I have always sought and still continue to reiterate the need for Lagos to be accorded a special status as a National Asset.
"As a microcosm of the entire country, Lagos State deserves all the support it can get at the national level. The development of any megacity like ours is the responsibility of both the public and private sectors, and to this
end, we will continue to explore public-private-partnership strategies in the provision of infrastructure, social services, and the conversion of challenges to opportunities within the context of scarce resources," he stated.
Load more