Former vice-president Atiku Abubakar's bid to get President Bola Tinubu's academic records from University of Chicago has suffered a setback, following the ruling of Illinois District court Judge Nancy Maldonado.
While magistrate judge Jeffrey Gilbert of U.S. District Court for the Northern District of Illinois, ordered the university to release the records by 21 September, Tinubu's lawyers filed an appeal via an emergency motion to stop it.
The lawyers contended that the magistrate judge went beyond his powers in making the order, as he ought to have made a recommendation to the district judge.
They asked the district judge to delay the effect of the magistrate judge's order until 25 September, to enable the district judge consider "both the scope of the magistrate's authority to issue the order without review and the issue of whether the magistrate's order was a correct application of the law to the facts presented".
The motion succeeded on Thursday.
Judge Nancy Maldonado ordered Tinubu's lawyers to produce a full arguments on Monday on why and how the documents would have adverse effect on Tinubu.
The Latest Chicago court order: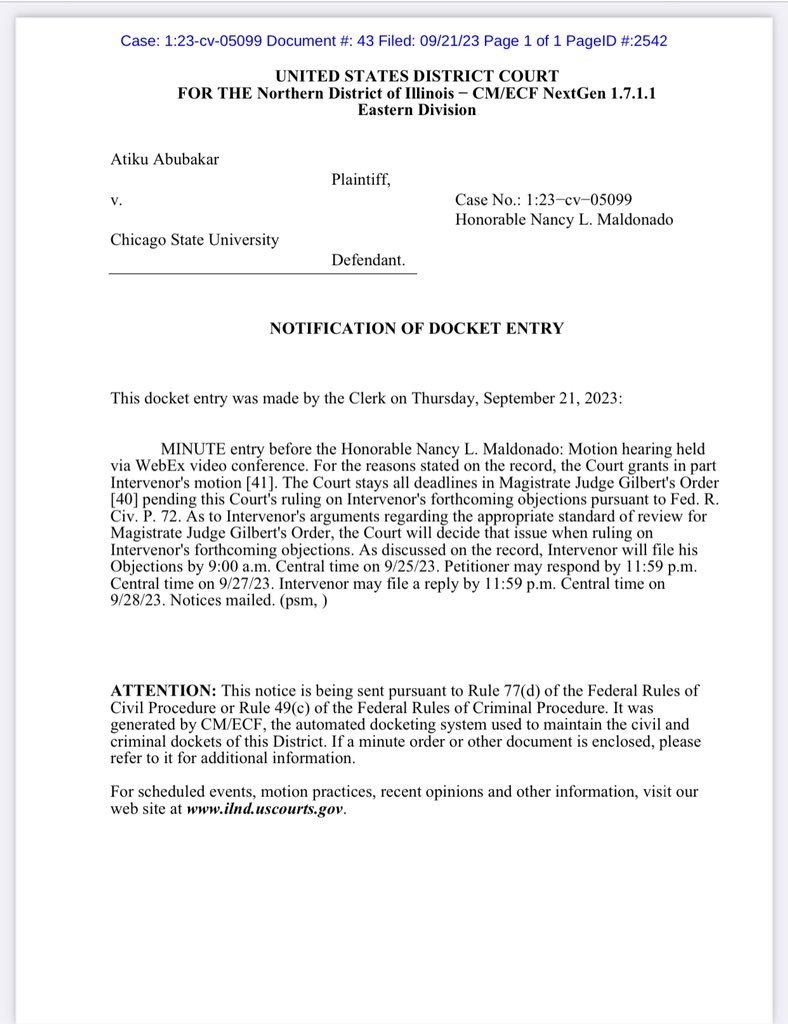 The back and forth in the Chicago courts appears to be like a game of chess as Tinubu's lawyers checkmate Atiku.
Tinubu's lawyers seem bent on frustrating and delaying Atiku from laying his hands on Tinubu's records at CSU, to make it impossible for him to put the records in his briefs at the Nigerian Supreme Court.
Atiku, who already filed an appeal at the Supreme Court on 18 September has up till 28th September to make any amends.
But with the court ruling stopping CSU, Tinubu's lawyer will file their brief on Monday 25 September.
According to sources close to the case, Atiku's lawyer has until 11:59 pm on Wednesday 27 September to object to it.
Tinubu's lawyer will then file a reply, which they have until 11:59 pm on Thursday 28 September to submit.
"After that, we will proceed to another judgment", said the source, indicating Atiku will run out of time.
Before Magistrate Judge Jeffrey Gilbert, CSU informed the court that Bola Ahmed Tinubu was indeed a student at their school and graduated there in 1979.
Although the school acknowledged discrepancies in the two certificates Atiku's lawyers asked it to authenticate, it did not say whether they were forged or not. This is moreso, as the school does not keep copies of certificates given to students.
CSU said it has already made available Tinubu's academic records, which were tendered at the Presidential Election Petition Court in Nigeria.
What Magistrate judge Gilbert said was to ask CSU to re-issue same documents to Atiku Abubakar.
Read Tinubu's emergency motion here: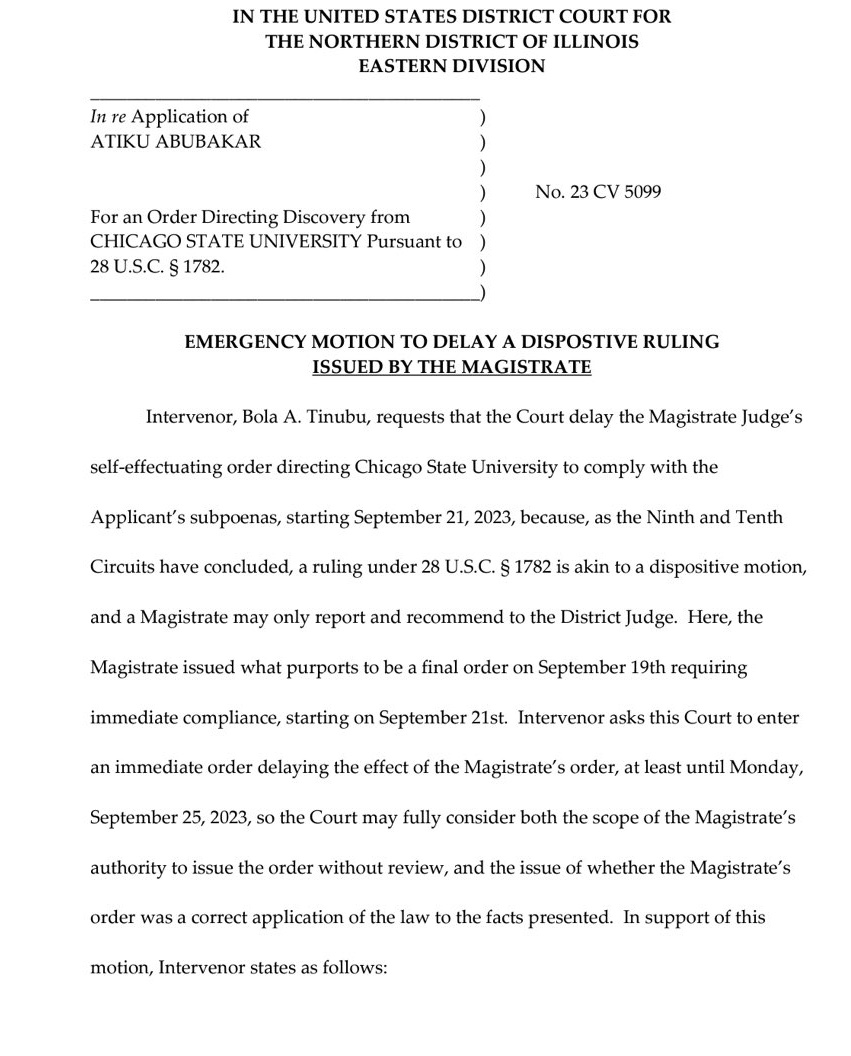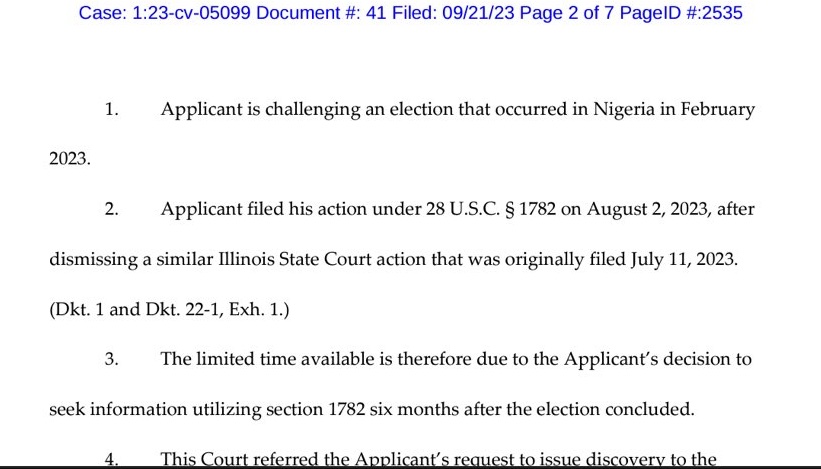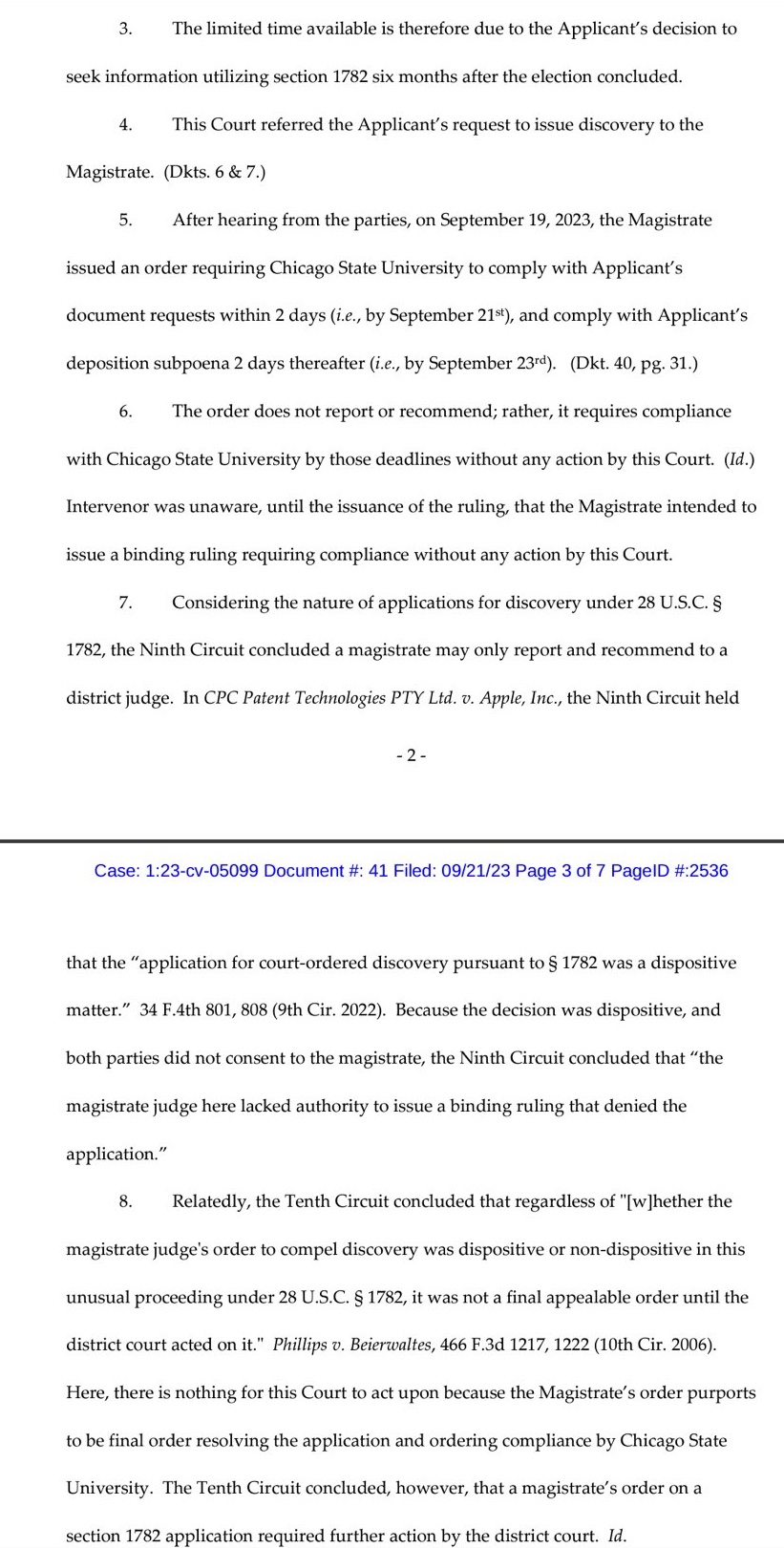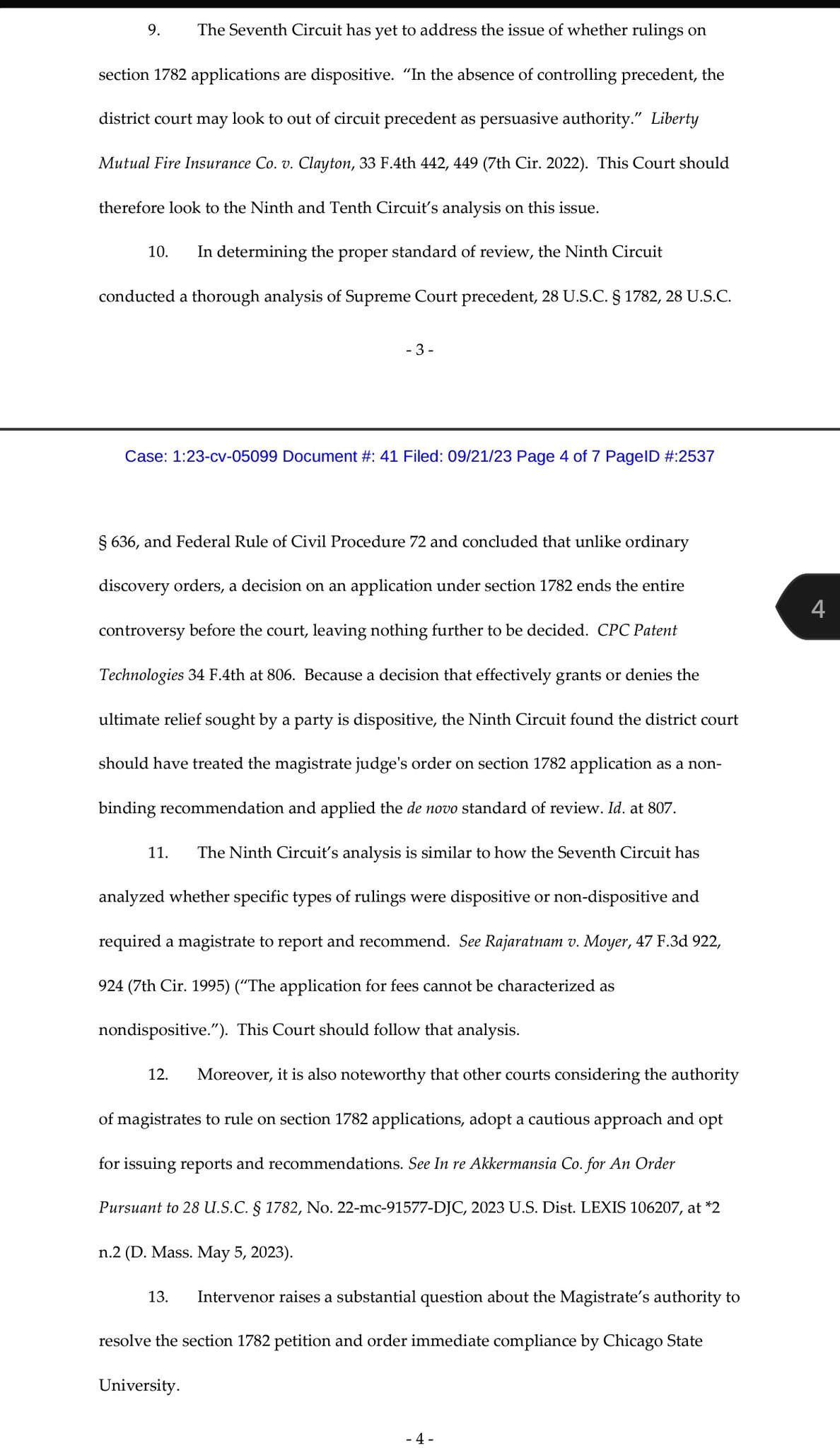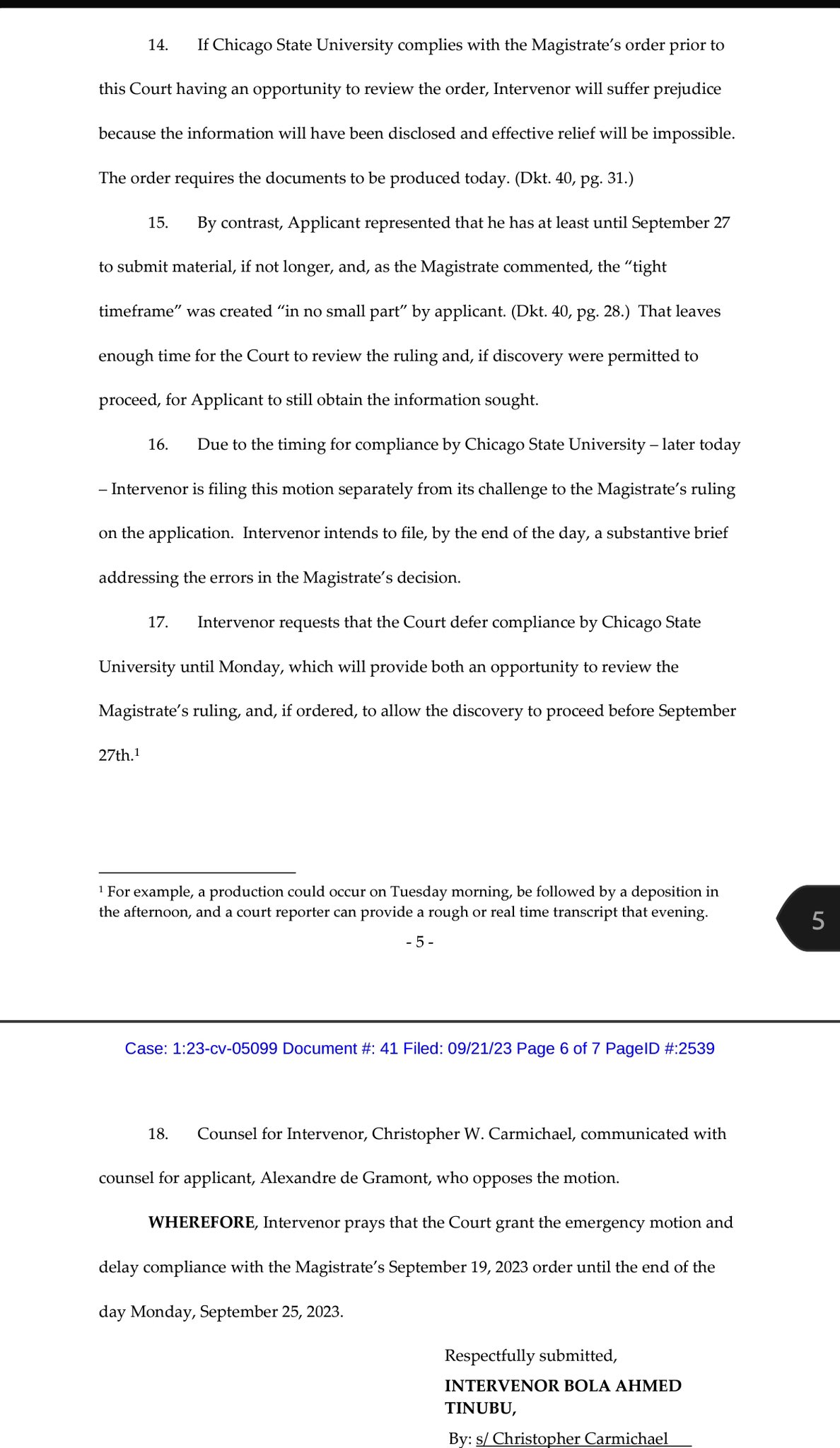 Load more