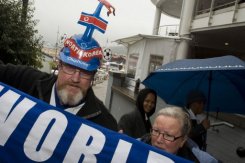 CAPE TOWN (AFP) – PORTUGAL ANNOUNCED THEMSELVES AS a force at this World Cup with a 7-0 demolition of hapless North Korea in a Group G clash in Cape Town.
The result all but secures their passage into the second round, unless Ivory Coast can pull off something extraordinary in their final game.
The only real question going into their final group game against Brazil is whether they can top the group.
A draw would be enough for the Brazilians, but that may set up a second-round game with Spain, so finishing second may not be a bad thing.
To find out how every goal went in then read on.
– 1324 GMT: Alan Hansen is excited by Ronaldo's return to form. "The first half we saw an off colour Ronaldo but the second we saw him on top form, he was absolutely terrific," he says. "The second half North Korea went completely AWOL and were thoroughly thumped. They got seven, they could have got 10."
– 90+3 mins: FULL TIME! Portugal 7 North Korea 0.
– 88 mins: GOAL! Portugal 7 North Korea 0
Tiago adds to the humiliation, connecting with a left-wing cross to head into the goal
– 87 mins: GOAL! Portugal 6 North Korea 0
– 84 mins: Any chance of a consolation? I don't see it, they look broken. Portugal are hungry for more.
– 80 mins: GOAL! Portugal 5 North Korea 0
Liedson comes on and scores with his first touch. A hacked clearance sits up perfectly for the substitute and he lashes the ball into the roof of the net. This is all bad news for Ivory Coast.
78 mins: Apologies, a draw in the final game will still be enough for Brazil to finish top of the group, but will they want to with Spain lurking? On last night's performance I don't think they'll care.
– 72 mins: Another effort from Ronaldo but it's at the keeper. Jong Tae-Se has an effort into the side-netting. Duda replaces Simao.
70 mins: Goalscorer Raul Meireles is off, Miguel Veloso is on.
Nearly a great goal from Ronaldo. He cuts in from the right wing and hits a dipping drive from 25 yards which hits the bar.
– 68 mins: Ronaldo puts in Coentrao but the winger can't get his effort on target. He'll have to wait for his deserved goal.
– 65 mins: Substitute Kim Yong-Jun has an effort just over. Brazil will be keen for a Korea goal because as things stand Portugal would finish top of the group if they draw the final game between teh two. But that might set up a clash with Spain. The permutations are dizzying.
63 mins: Meireles misses a sitter. Ronaldo is really tuning it on and plays a perfect cross but the forward slams the ball wide.
– 59 mins: GOAL! Portugal 4 North KOrea 0
Tiago gets on the scoresheet. Ronaldo breaks the offside trap and pulls back for Tiago to pass into the corner. North Korea really need to defend deeper unless they want a real hiding.
– 56 mins: GOAL! Portugal 3 North Korea 0

Hugo Almeida scores and North Korea are looking down the barrel. The hugely impressive Coentrao once again causes havoc down the wing and delivers an inch-perfect cross onto Almeida's head. He couldn't miss, and didn't.
– 53 mins: GOAL! Portugal 2 North Korea 0

52 mins: Coentrau again gets a superb cross in but good defending from Ri Kwang-Chin averts the threat.
– 50 mins: Jong Tae-Se rolls Carvalho and wins a dangerous free-kick. The forward hits the shot which takes a slight deflection but Eduardo is down smartly to smother the ball.
– 48 mins: Ronaldo has a shot from distance. It goes the way of many long-range efforts, miles over. He keeps the next one down and the keeper takes three attempts to get it under control.
– 46 mins: Tiago straight onto the front-foot, hits a long-range shot which is tipped over the bar.
1233 GMT: The vuvuzela's herald the entry of the team's for the second-half. Goodness knows what's going to happen, this World Cup has made predictions futile. If North Korea continue to play open, I think they may get tonked. Goal difference could be critical for Portugal.
– 1221 GMT: The gulf in class and big-match experience was beginning to show at the end of the first half. The Koreans will stick with it but they may have to curtail their more attacking approach as they are becoming stretched, and it could get ugly.
Ronaldo, who has not scored for his country since Euro 2008, has not caused any problems for the Koreans and is starting to get moody. It seems to be a theme that the major players, with the exception of Messi, are finding the expectations a little burdensome.
"He's not really threatened," Shearer says. "He looks subdued. It's not the Ronaldo we're used to seeing and there's a lot more to come from him."
1219 GMT: Alan Shearer in the BBC studio thinks the North Koreans have hit the wall: "They put so much into the first game and the first 20 minutes here. Portugal have been able to pick them off," he says..
– 45+2 mins: HALF TIME! Portugal 1 North Korea 0-
Ronaldo's fat bottom lip is out. Not sure what the problem is, frustration I would imagine
45 mins: Simao's cross is just too high but Portugal are taking charge here. Two minutes of stoppage time to be played.
– 43 mins: The first we've really seen from Ronaldo. He sprints down the left channel but pulls a weak effort well wide.
– 40 mins: The super slo-mo camera has been a welcome addition to this year's tournament. Great footage as water bursts off Carvalho's chest when he controls the ball. It's very wet out there.
– 38 mins: YELLOW CARD! Pedro Mendes is booked for a mis-timed tackle on the edge of the area. Chance. It's blasted into the wall.
– 36 mins: The Koreans are looking a bit raggy at the back, but win a corner on a raid forward. They play it short and lose the ball.
– 35 mins: Nearly two for Meireles as he pounces on bad defending but pulls his shot wide.
– 33 mins: How are the rank outsiders going to react? If the Brazil game is anything to go by, then it won't affect them too much. They are looking less likely as an attacking force at the moment.
– 29 mins: GOAL! Portugal 1 North Korea 0
Raul Meireles scores Portugal's first goal of the tournament. North Korea had no answer to an explosive yet simple move as Tiago slipped a ball through to Meireles who made a superb run and finished firmly past Guk Ri-Myung.
– 26 mins: Tricky play from Fabio Coentrao ends with a super cross which is cleared under intense pressure from Simao.
– 23 mins: Great defending from Cha Jong-Hyok as he just gets a touch to take the ball off the head of Hugo Almeida.
21 mins: They fancy this as An Yong-Hak hits a daisy-cutter just wide. They've got the right idea, any shots along the ground are going to be treacherous.
– 17 mins: Hong Yong-Jo hits a fierce drive from the angle which is beaten away by Eduardo. The bouncing ball is headed by Pak Nam-Chol but it's coming at him too quickly and he can't direct it and it goes over. They're looking very sharp.
16 mins: Ronaldo threatens down the flank but it is scrambled clear. It's a really open attacking start, and with the rain teeming down, it promises to be an incident-packed afternoon.
15 mins: The ball just skids away from Jong Tae-Se in the area. That was a chance.
13 mins: Every touch from Ronaldo is met by high-pitch screams in the crowd. He accomodates by executing a completely unnecessary back-heel.
11 mins: And it nearly pays off! Cha Jong-Hyok marauds forward from right-bank and hits a cracking 30-yard drive which is just wide of the post.
10 mins: I don't know if the North Koreans have had a word, but they seem to have set up very differently for this game. Rather than defending deep they are now holding a high line and looking to press. This could go either way!
7 mins: Carvalho even closer this time. Keeper Guk Ri-Myung comes out window-cleaning at a corner, completely misses the ball, but Carvalho's header rebounds back off the post
– 7 mins: Carvalho even closer this time. Keeper Guk Ri-Myung comes out window-cleaning at a corner, completely misses the ball, but Carvalho's header rebounds back off the post.
6 mins: Looking into my crystal ball I can see a few more errors of that nature as the pitch and ball are extremely slippery, it will be a nightmare for the 'keepers.
4 mins: A ricket in the Korean defence presents Ricardo Carvalho with the ball on the edge of the area but his shot on the turn is sliced high and wide.
2 mins: All the talk has been about the last time these two teams met, in the England World Cup of 1966. On that occasion the North Koreans raced into ta 3-0 lead but lost 5-3 due to a Eusebio inspired come-back. Cristiano Ronaldo hits an awkward shot which Guk Ri-Myung does well to hold.
1 min: Portugal, all in red, kick-off with the North Koreans all in white.
1126 GMT: The players are out and rattle through the national anthems. Jong Tae Se manages not to blub this time, any water on his face is due to the inclement weather conditions.
1118 GMT: My colleague at the ground, Martin Parry, tells me that the rain has stopped after falling all morning. "The North Korean fan club is here, all wearing red coats and caps. It looks to be about 50-strong and they have been busy waving their small flags as onlookers get their cameras out to get a picture," he says.
1112 GMT: The teams are out.
Portugal: Eduardo, Ricardo Carvalho, Bruno Alves, Fabio Coentrao, Pedro Mendes, Raul Meireles, Simao, Miguel, Tiago, Cristiano Ronaldo (capt), Hugo Almeida
Manager: Carlos Queiroz
North Korea: Ri Myong Guk, Cha Jong Hyok, Ri Jun II, Ri Kwang Chon, Ji Yun Nam, Pak Choi Jin, Pak Nam Chol, Mun In Guk, An Yong Hak, Jong Tae Se, Hong Yong Jo (capt)
Coach: Kim Jong Hun
Referee: Pablo Pozo (CHILE)
WELCOME TO THE GREEN POINT STADIUM in Cape Town for our live World Cup text commentary of a crucial Group G clash between Portugal and North Korea.
A game neither side can afford to lose if they are to have a chance of joining Brazil in qualifying for the the next round. The South Americans booked their place in the knock-out stages with a 3-1 win over Ivory Coast last night.
The Koreans lost their first game 2-1 to Brazil while Portugal gained a point following a 0-0 draw against Ivory Coast.
Watch out for the Portuguese players during the warm up when they are due to wear a black armbands in respect to Portuguese literature laureate Jose Saramago who died on Friday at the age of  87.
Load more