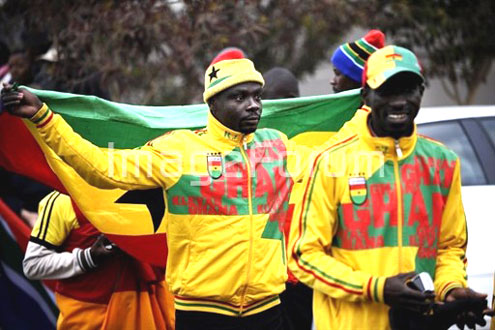 Ghanaians turned out in their thousands to cheer their soccer team's arrival home late yesterday spraying their jet with water cannons and rolling out the red carpet for the World Cup's surprise quarter-finalists.
The 'Black Stars' matched pioneers Cameroon (1990) and Senegal (2002) in reaching the last eight, but spurned a golden chance to become Africa's first semi-finalists when they squandered a last-minute spot-kick against Uruguay.
Striker Asamoah Gyan's missed penalty after a handball on the line denied Ghana a goal with both teams tied at 1-1, sending the match into a penalty shoot-out which Uruguay won 4-2.
There was little bitterness among the revellers at the airport, however, many of whom had draped themselves in the country's national colours of green, gold and red.
"The Stars fought gallantly, not only making Ghana proud, but the entire African continent," said Felicia Acheampong, a 53-year-old teacher who was part of the celebration.
Huge crowds had flooded the airport hours before the team landed, blasting vuvuzelas, singing and drumming in a carnival atmosphere.
Tony Bakah, a 42-year-old man blowing a red, gold and green vuvuzela, had nicknamed his newborn baby 'Olele', Ghanaians' affectionate tag for goalkeeper Richard Kingson.
"It's a way of remembering the performance of the Stars," he said.
Ghana, whose chutzpah at the continent's first World Cup won many admirers, were Africa's sole hope after Ivory Coast, Cameroon, Nigeria, Algeria and hosts South Africa were knocked out in the group stage.
Load more