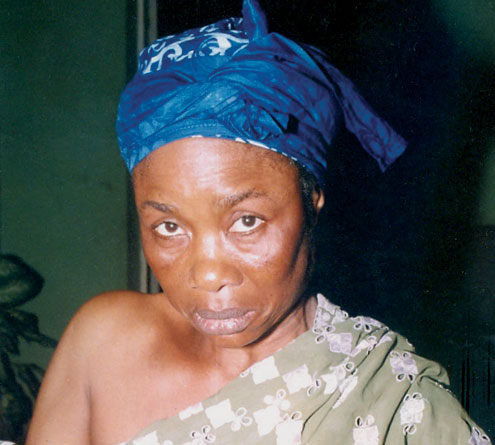 Star actress Toun Oni is dead. P.M.News learnt that the Oni died yesterday after a brief illness.
Reports quoted her son as saying that she died on her way to the hospital.
"She complained about not feeling too well last night and then this morning (yesterday) she felt very weak so we had to rush her to the St. Paul's Hospital, Ebute-Metta, but she passed away before we arrived there," her son, Toyin Oni, told a daily newspaper published today.
"We were rushing her to the hospital from our Ajah home," he added.
According to reports, the body of the late actress has been taken to St. Paul's Hospital morgue. Funeral arrangements are currently being made by the family at the family house, 66a Brick Field Street, Ebute Metta, Lagos.
Stars in the Nigerian movie industry, Nollywood, described the death of Toun this morning as an unfortunate incident that could happen to a developing industry like Nollywood.
The National President of the Actors Guild of Nigeria, AGN, Segun Arinze, described the demise of the popular actress as a sad development.
"The news came as a big shock to me and it is quite painful. I spoke with her son and he told me that she died after complaining of headache. Toun Oni is not just one of the most talented actresses we had, she was a role model to many people," Arinze said, adding that AGN will make plans to immortalise her.
Also speaking with P.M.NEWS, the Chairman, Board of Trustees, AGN, Prince Ifeanyi Dike, said "the make-believe industry will miss this down-to-earth and jovial actress."
The producer of Fuji House of Commotion, Amaka Igwe said that though she has heard about the death of the star actress, she is yet to confirm from the family.
Bankky Adeoye, a top movie producer confirmed the death and said that she will be missed by all.
The late Toun Oni, 68, made her debut in acting with a stage drama titled Be Mighty, Be Mine, written by the late Wale Ogunyemi.
An outstanding role model to a lot of upcoming actresses, she featured more in soap operas than movies and her most prominent soap is Fuji House of Commotion, a production of Amaka Igwe.
Toun Oni's career dates back to the 70s and though not one of the biggest stars around financially, she was undoubtedly a respected figure in the Industry.
—Ayodele Lawal & Bayo Adetu
Load more