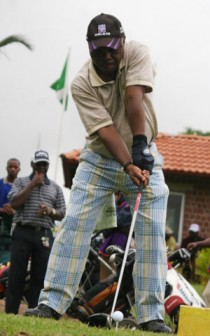 Major General Sebastian Achulike Owuama, retd, the new President of Institute of Chartered Accountants of Nigeria, ICAN, was last weekend honoured by the IBB International Golf Club in Abuja, Nigeria.
The new ICAN President, who is the first military personnel to head the accounting body was honoured with a two -day, golf tournament, sponsored by a former president of the club, Mohammed Waziri. The ICAN President, who is also an avid golf player was also given a special award; the Celebrants" Award at the end of the  tournament. Onwuama, who retired as Director, Army Finance and Accounts was full of gratitude to members of the club for the honour done to him.
Speaking to P.M.Sports after the tournament, Onwuama who has also been honoured with a similar tournament in Lagos said there is a big denominator between accountancy profession, military profession and golf.
"If one is not disciplined, honest or have integrity, he can't be a good soldier. Also, he can't be a good accountant, and as well can't be a good golfer", Onwuama said.
"If I played a round of golf with an individual, by the time we complete the 18 holes, I can tell you what that man is all about-his nature.
—Femi  Ipaye/Abuja
Load more