Nigeria's chances of featuring in next year's U-20 African Youth Championship, AYC, got a big boost this evening in Abuja, when the Flying Eagles defeated Guinea's junior Syli Nationale 2-0 in a qualifying match.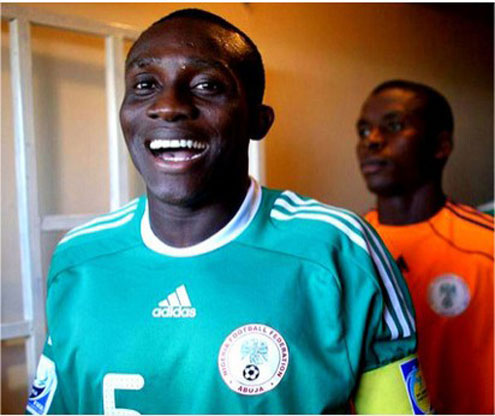 Ojabu Omoh and Egbedi Omafe scored for the Flying Eagles, who were shy in front of their visitors' goal area throughout the first half of the encounter played at the empty National Stadium in Abuja.
Less than 5,000 fans turned up for the match at the Federal Capital Territory, FCT, Abuja where Guinea's goalkeeper Camara Aboubakar could have ended the first leg knock out
qualifying tie a hero.
His brilliant saves, coupled with Guinea's defensive play denied Nigeria scoring chances before the break. The hard fighting Guineans proved a hard nut to crack for the Flying Eagles, who finally broke their water-tight defence barely 2 minutes into the second half.
Ojabu's clinical 47th minute goal however upset the junior Syli Nationale, whose attempt to attack their hosts failed, giving Egbedi a chance to net another goal for the Nigerian side.
Nigeria's goalkeeper, Dammy Paul also gave a good account of himself, stopping the daring moves by the Guinean players, especially in last ten minutes when the former Golden Eaglet denied the Sylla Almaly-captained squad a chance to reduce the tally.
Guinea's striker Kaita Karamokoba missed a clear chance to score on the dot of regulation time but Coach Sampare Sekou praised his team for giving Nigeria a good match.
Flying Eagles Coach, John Obuh was happy about the result but blamed poor understanding between the players for their inability to score early in the match.
Nigeria paraded majority of Eaglets' youngsters including skipper Fortune Chukwudi, that won silver medal at Nigeria 2009 FIFA U-17 World Cup. The second leg of the encounter holds in Guinea in a forthnight.
Taiwo Adelu, Abuja
Load more