Adetoun Adeloye, a presenter with Lagos Television is dead. The late broadcaster, P.M.News learnt died in her Lagos home.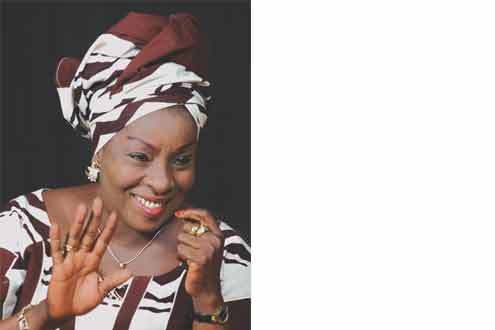 While the cause of her death could not be ascertained as at press time, many of her colleagues decline  to comment on her death which came to many of them as a rude shock.
However, a top broadcaster with the state broadcast station and close friend of the deceased told P.M.NEWS that the popular  presenter of 'Frank Talk', a Current Affairs Talk show on LTV was last seen by some of her colleagues in the evening of Friday 13 August and she was all alone in her house over that weekend.
The following Monday, when they did not hear any message from her, they checked on at her home.
His word: "Though, I have no access to the autopsy report, from what I gathered Toun was in the office till late on Friday (about 6:30 pm). She spoke with her last two children (she had four) on phone at about 7:30 p.m. that same day. That was her last known call. She was alone in the house because the youngest child, Olaide, went to write post-UME examinations at the University of Ilorin, escorted by her elder brother."
According to the source, the other two children are grown up and married so she was all alone at home all through the weekend.
"Subsequent calls to her phone throughout the weekend were unanswered, raising fears about her whereabouts," he said.
"A search party was organised to trace her on Monday. When they got to her house, her main flat door was forced open  and found her lifeless body in very embarrassing state, almost decomposing," he explained.
But many of her colleagues and friends have been expressing their sadness over the demise of the amiable on-air personality.
"I am so sorry to hear this. I saw her in LTV the last time I visited and we exchanged pleasantries. I said…oh! Here is that woman on TV, that was four or five weeks back I think. What a loss? Rest well, a woman of substance. She was a competent professional and a pride to the women in the media in Lagos State…Adieu Aunty Toun!" Funke 'Treasure" Durodola, a broadcaster with Radio Nigeria wrote in a condolence message.
"Oh, what a great loss. Such a beautiful woman. May her soul rest in peace," said Laide Okuonghae.
The single mother of four started her broadcast career with Ondo State Broadcasting Corporation, OSBC, Akure, Ondo State, South West Nigeria in the 1980s.
She later left to work briefly as international flight announcer at the Murtala Muhammed International Airport, Ikeja and from there she pitched her tent with the Lagos State Broadcasting Corporation.

—Funsho Arogundade
Load more