The first weekly meeting of Federal Executive Council, since the election of President Goodluck Jonathan kicked off on Wednesday morning with Mrs. Ngozi Okonjo-Iweala still conspicuously absent. This followed the swearing in of the last batch of ministerial appointees by the President last Thursday.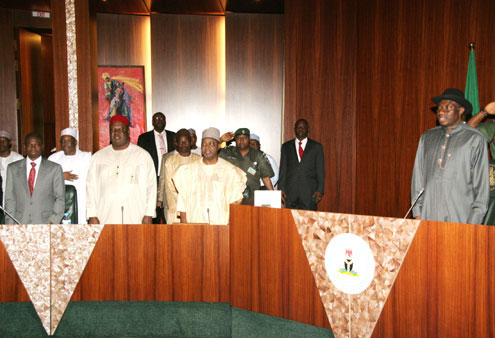 Okonjo-Iweala had returned to Washington to finalise her disengagement from the World Bank where she was a managing director immediately after she was cleared by the Senate about three weeks ago.
She was also not among the last batch of nine ministers sworn in last Thursday by the President.
The presidency had earlier indicated that the former finance minister in the administration of ex President Olusegun Obasanjo had gone back to Washington to clear her desk before resuming her duties in the Nigerian cabinet.
Though it has not been officially announced, it is however open secret that Okonjo-Iweala will take the finance portfolio in the cabinet.
The President has already appointed a junior minister of finance while Olusegun Aganga, who was the senior minister in the finance ministry before the reconstitution of the cabinet, is now overseeing the newly created Trade and Investment ministry. She had during her screening at the Senate faulted the 2011 budget which she said is not targeting at development of the country with 74 percent allocated for recurrent spending. The World Bank managing director had also lamented Nigeria's high unemployment rate, affirming that growth in the economy must lead to creation of jobs.
The World Bank managing director who got famous for leading the efforts that led to the payment of Nigerian foreign debt as member of former President Obasanjo's cabinet, it was also believed, will be the head of the Economic Management Team of the present government.
It is however not yet clear when she will resume duties in the cabinet. But nearly all the other ministers were present at the cabinet meeting which kicked off at the 10am usual time and being presided over by President Jonathan.
No doubt, the star cabinet member at the maiden meeting of FEC is Emeka Wogu, Minister of Labour who received numerous warm handshakes and bear hugs from his colleagues for his feat in averting the planned three day national strike by the organized labour.
—Oluokun Ayorinde/Abuja