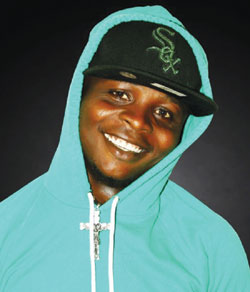 A new kid on the Nigerian music scene, Onyedikachi Chidiebere, a.k.a. Jemzy, would soon drop a collection of soul inspiring, heart warming and thrilling songs on an album that promises to take this country by storm.
Jemzy currently has 14 tracks ready to hit the airwaves. The album is produced by the CEO of Youthage Records, Chinedu Samuel Ugochukwu, whose mastery in the art is evidenced in uncountable hits, even in his best-selling entertainment magazine, The Youthage.
Jemzy told P.M.Entertainment that his new album was well planned and packaged to suit the taste of lovers of all genres of music. The album contains six genres of music.
"With so many people making all sorts of music in Nigeria; from Gospel to High-life and neo-cultural to Hip hop, it is difficult for the few exceptionally talented ones to get noticed," said Chinedu Samuel Ugochukwu.
Jemzy said he works hard and that is why his music and stage craft have won the hearts of Nigerian music lovers and enthusiasts.
Listening to one of his yet to be released two singles, one can tell that Jemzy's unique and impressive artistic skills would be the trump card that would stand him out among the crowd.
Jemzy told P.M.Entertainment that his love for music began at a tender age, and it grew to a hobby that has become a career. His formal artistic education started in St. Luke's Anglican Church, Okpoko, Onitsha Choir, where he distinguished himself as one of the best soloists.
With tracks such as Story of My Life and Oriope, he hopes to be the next Nigerian to win a Grammy award.
—Daniels Ekugo

Load more