Aso Rock, the seat of government in Nigeria, kept mum Monday over the whereabouts of Patience Faka, the wife of Nigeria's President Goodluck Jonathan.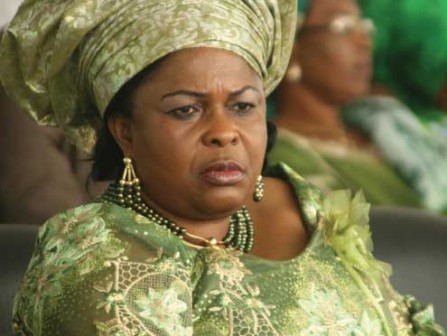 She was said to have been flown to a  Germany hospital called Horst Schmidt Klinik where the late President Umaru Yar'Adua received treatment for his kidney ailment.
 P.M.NEWS' efforts to seek clarifications on the First Lady's health were unsuccessful at the time of this report.
Reuben Abati, spokesperson to President Jonathan and the Chief Press Secretary to Mrs Jonathan, did not pick their calls or respond to text messages asking for their clarifications on the issue.
There are, however, speculations that the Presidency may react to the story through a statement before the end of the day as a result of the interest the state of health of President Jonathan's wife is generating.
However,  a national newspaper quoted Patience's aide, Ayo Osinlu, as saying that she travelled abroad last week to take a rest since she had not taken any rest since last year's presidential election.
"If you look at her itinerary in August, you will be wondering how she was able to accomplish that," Osinlu was quoted as saying.
Reports in the media say Mrs. Jonathan has not been seen at public functions in the past one week and there were concerns at the weekend that something was amiss.
She did not accompany the president to a major function in Anambra state last Thursday and was also not with the president when he visited Ethiopia for Zenawi's burial at the weekend.
Concerns swelled when news started spreading that she had been flown to a German hospital for the treatment of an undisclosed ailment.
But there was no indication that the alleged ill health of his wife is affecting the President in any way.
President Jonathan appeared very bright and cheerful when he launched the second edition of Youth Enterprise With Innovation in Nigeria, YOUWiN a job creation scheme of the Federal Government specifically targeted at women at the Banquet Hall of Aso Rock Presidential Villa on Monday morning.
The President even cracked jokes about women buying things they don't need or want while urging potential beneficiaries of the scheme not to use the loans that will be granted to them under the scheme on frivolities.
—Ayorinde Oluokun/Abuja

Load more