Unlike other people, who are physically challenged, who take to the streets to beg for alms, Olarenwaju Olajumoke, who lost her limbs to polio meningitis at a very tender age told ADEBOBOLA ALAWODE in this interview that the loss of her limbs forced her into para-athletics.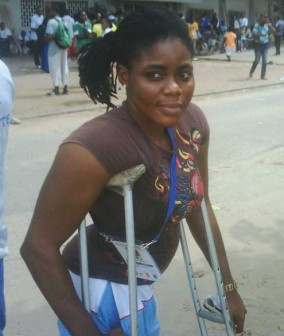 Why are you training under this scorching sun? 
What do you mean, you want me to go cap in hands begging for alms?
 Are we quarreling?
It is not that we are quarreling; I was just wondering why you should ask me such a question. I'm an athlete so if I don't train I would I be able to compete with my counterpart s.
What is your training schedule like? 
My training schedule is determined by my coach because it is him being a coach that knows what kind of training and time that I should do for me to beat the best and become the best.
Why para-athletics, when there are other sports?
I decided to take up the sport because I thought within me that if I can't run with the aid of crutches, I can on wheels I mean using the wheelchair.
What are the challenges confronting you? 
If you walk around you are going to find out that many of us do train with obsolete wheelchairs which sometimes hinders our speed. There is no way an athlete, who train with outdated wheelchairs can compete with another that uses modern wheelchair. Getting to the stadium is another thing, if your guardians are not willing to assist, your ambition could suffer a natural death before it is conceived.
So how have you been coping with the challenges before you and your quest to reach the zenith of your career?
The challenges are quite enormous but I see it as something that is surmountable. I also encouraging people around me, they always make me feel like every other person.
Did your parents deliver with this deformity, how did you come about it?
I don't like I was delivered like this because my parents told me that it was polio meningitis that claimed it, I would not know if it was another thing but from what my parents told me and I had to believe it.
How many children are there in your family and what position do you occupy?
Yorubas don't count the number of children that they given birth, anyway I'm from a family of six and the fourth child of my parents.
How do you manage to do things that people ordinarily think you won't be able to do, especially tedious chores?
Like I said earlier, since I was a child my parents knew me as a child that takes no for an answer, there are some house chores that they would assign to my siblings but before they know it they would start shouting on me that I should pity myself. It is not that I do all things that an abled-bodied person can do but I do something
You mean always protect you and you don't like it?
I don't see it as being protected but as an issue of over pampering. It is something that we watch on the television, where people with disabilities do what others do, so why should I be an exception?
Despite your state, you still make out time to look good, unlike some of your peers, who look unkempt? 
Looking good goes a long way because people will address you the way you appear. Being physically-challenged does not give you a leeway to hit the streets begging for alms.
You are matured enough to talk about sex, so how is your sex life?
Do you expect me to talk about my sex life with you? The answer is no.
But are you in a relationship? 
Yes I'm in a relationship and when it is time for the marital knot to be tied, you will be the first person to know.
Is it a serious relationship and is he someone with physical disability like you?
He is not a disabled person and we are really in love.
What attracted him to you, or what made you fell for him?
I didn't accept his overtures just like that, he remained persistent, I gave him some test, so when he passed I accept his proposal that showed that it is not at love at first sight.

Load more