Arsenal manager Arsene Wenger says his club's defeat in the Capital One Cup quarter-final is "very disappointing".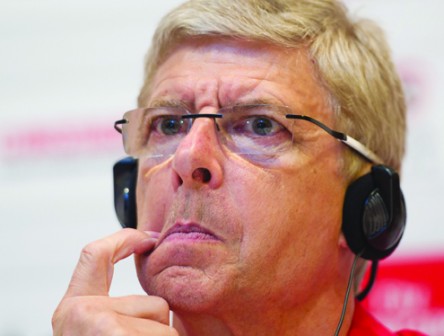 The Gunners were behind for much of the match after Garry Thompson gave the home side the lead, but a late header from Thomas Vermaelen took the game to extra-time and penalty kicks, where Bradford won 3-2 after Vermaelen missed the decisive kick.
Wenger says the League Two side "deserve credit" for the way they played, but feels his side were "not incisive enough".
"You feel embarrassed when you don't give everything, I think they'll be more disappointed and frustrated."
But the Frenchman refused to criticise his side, who are enduring a difficult season and have won just one of their last six games in all competitions.
"It was a great cup tie on a tough pitch and I cannot fault the effort from my players," said Wenger. "It was a typical English cup tie and Bradford got on top of us.
"They started stronger than us and congratulations to them.
"We played with basically five strikers but we couldn't score and you have to say they defended very, very well. In a cup tie any team always have a chance."
"I don't think there's any psychological problem with the players when it comes to knockout ties. I don't think it's  lack of quality. We will get over this, it is part of our job and focus on the next game."
The Gunners' next match is at Reading in the Premier League before another away match against Wigan. They then face West Ham and Newcastle in home league matches either side of Christmas Day.
Meanwhile, Bradford boss Phil Parkinson was delighted with his side's victory, which booked them a place in the League Cup semi-finals for the first time in their history.
"It's a great night for the club and we said before the game that we wanted to show a wide audience that we are a good side," said Parkinson.
"Arsene said he was going to bring a strong team but we were still surprised by just how strong it was. He knew we were a good side.
"Matt Duke pulled off some crucial saves in what was a difficult night for goalkeepers but the defenders protected him terrifically."
City have now won their last nine penalty shootouts but Parkinson was keen to stress his side matched Arsenal – 65 places above the Bantams in the League pyramid – during the preceding 120 minutes.
"I don't want this to be about us winning on penalties, this is about us winning the game," said Parkinson.
"We were three minutes from doing it in 90 minutes and the whole team were magnificent for the full 120."
Bradford have not a lost a cup match this season but must wait to see if they can continue their FA Cup campaign after they were expelled for fielding an ineligible player in last Friday's 1-1 draw with Brentford in the second round.
City have appealed against the decision.
"If we lose our FA Cup appeal I certainly won't be losing any sleep," added Parkinson.
"I just want to enjoy this now, I don't think the enormity of what we have done will sink in until tomorrow morning."

Load more