Ace broadcaster and actor, Yemi Sodimu, tells BAYO ADETU and KAYODE APONMADE about the challenges facing the movie industry, his participation in politics and other issues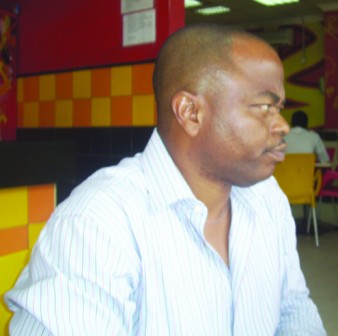 Many people are excited to see you back on the entertainment scene after years of being in politics.
I'm excited too. That's the truth. But I never left completely. An elderly person told me when I went into government that I should ensure I have a second address. So, coming back wasn't that difficult; it's like coming back to what I love to do best. But I'm taking it one step after the other. I'm not coming back to jump left, back, right and centre. There are still many things to do, but for now, I talk on radio, take a bit of movie roles and of course, I am a compere at events. Very soon, I will be back on television and to many other things.
Are you satisfied with the current level of development of the movie industry?
The practitioners deserve a lot of kudos for keeping it alive. It's a tough world out there, very tough. That the industry still exists gives a lot of credence to the perseverance of the practitioners. Their hardwork and determination have kept things going. But there is still room for improvement in terms of the technicalities, artistry and marketing. We need to train and retrain ourselves to meet up with global standards. As I said earlier, the fact that the industry is still existing is a credit to those who are there. It can only get better, but there are some things happening now that we cannot defend.
Things like…
I have seen some shots in our movies that we cannot defend. I have seen some plots in our stories that we cannot defend. I have seen some make-ups in our movies that we cannot defend. I have seen some characterisation in our movies that we cannot defend. I have seen some directorial approaches in our movies that are so painful and then I see some subtitles in our movies that are criminal. These are areas we really need to pay attention to.
Don't you think formal education has a vital role to play here?
With due respect, it does. But really, there is formal education and there is formal education. There are people who go around with certificates and whichever institution they pass through has not succeeded in passing through them. So, when you  mention formal education, we need to qualify it. But whatever it is, it has a lot of impact.
While in government, what was your relationship with former governor Gbenga Daniel?
It was very cordial. I have had situations to bring the government's attention to certain plights of the people. I also had the opportunity to bring the people's attention to some areas where government was doing some things. I acted as a two-way channel. I can tell you that I was almost a public complaints commissioner. Because of my background and exposure, I was a bit well known to the people and quite a lot of them see me as the first point of contact to the government, be it on issues of road, water, general welfare or health. The good thing was that I had access to a man that was ready and willing to listen, so I was able to scale that hurdle. I had communication with practically all the heads of government agencies, so issues that didn't have to get to the governor or those that could be handled by certain agencies, I went ahead to do them. At the end of the day, I left the government with a very good conscience. Yes, a lot more could have been done, but a lot was done. In the area of arts, I was able to use my little position to propagate the arts in terms of entertainment and welfare. I had the opportunity to make positive statements.
One of the things you are known for is the Panadol Extra Game show, but it suddenly went off-air. What happened?
The company was rebranding and still rebranding, so there is a process going on. And don't be surprised if Panadol Extra bounces back. I can tell you that the crew is still intact and tight, so anything can still happen concerning that. But while it lasted, it provided challenges and a lot of fun. It was an avenue for us to display talents here and there and to also show how it should be done properly. It was a very professional approach in terms of preparation, execution, and I'm sure a lot of young people learnt something from it.
At a point, you started palm wine business. What necessitated that?
This is the real truth: I have always wanted to produce something that people could hold. Initially, I was toying with the idea of setting up a fish farm, but suddenly, I found myself in government. It was then that I realised that I could not be preaching to people to do something, to contribute their quota to the economy without practising what I was preaching. And then, a challenge came from the governor, asking us to practicalise the ideals that the government was pushing in whatever way. That was when the idea of the palm wine business came to me and I discussed it with one or two people. That was led to the birth of Emu Shobam. I also remember that the very first bottle that came out from the factory was taken to the governor. The challenge he gave at that point was that the product must not disappear from the market. He said it was a brilliant idea that must be sustained. That is one reason you can still find Emu Shobam in the market today. I took up that challenge. The second reason I took that decision was to create employment opportunities for people.
How is Emu Shobam doing in the market?
It is doing very well. It is well received. I'm not making much money out of it yet, but we are getting there.
You have a very close relationship with Tunji Bamishigbin and he has some television productions, but you are yet to feature in any. Why?
I had been in one before. The truth is that Bamishigbin has been busy and I have been busy as well. But as we speak, I have his script on my table. That answers your question.
Why have we not seen your own production?
There are stages in life. More of my energy has been directed towards producing and directing shows and programmes for both TV and radio. As for movies, don't worry, something will come up soon. When the time is ripe for me to do it, definitely I will.
Between ANTP and AGN, which one do you belong to?
I belong to NANTAP because it is a body of like-minds–theatre artists, thespians and they are young and vibrant. It's a place where we share ideas. Why NANTAP? That is the question you should ask me. It's a gathering that I can relate with very easily. I relate with the other groups that you mentioned, but when you talk about being a formal member of a body, I'm a member of NANTAP. I share some ideas with the other groups because there are members of NANTAP, who are also members of AGN.
As a radio presenter, are you a member of FIBAN?
That's another body whose idea I share because I'm a radio and TV personality. I'm a member of FIBAN.
Oleku, one of your best movies was shot many years ago, and till date, you can't compare it with many of movies being produced now. Doesn't that give you concerns about the future of the movie industry?
We're all bothered. It is actually our duty to ensure that we all come together and improve on the standard of our movies. No doubt, Oleku was a good job. It is a film shot many years ago and still very relevant today when people try to assess standards and all that. We will get there, but just like I said earlier, there is so much to be done. We need to improve in the areas of quality control and all that. There have been some good films, though. We really need to make films that are better than Oleku because that is the only way we can beat our chest that we are developing.
Don't you think the government has a pivotal role to play in the development of the film industry?
Maybe not much of the government really, but they can help in terms of creating viewing facilities; theatres for the exposure of our films. But the private sector has more to do in terms of financial backing. The industry can be very lucrative if there are proper structures in place. It can actually rival the oil sector. What we have now is a situation where a producer looks for money one way or the other–through relatives or a loan, which is rare. And then, because of the limited fund, the producer might not be able to afford a good location or pay the artistes well. So, he finds himself in a situation of compromise. He would not be able to pay for proper equipment and instead of six lights, he manages two. Instead of a crew of 20, he manages five. He will not even be able to pay a professional editor, who will  do the job properly. The totality of these problems contribute to the level we find ourselves right now. When the movie comes out eventually, the pirates are there to feast on it. Of course, the marketers too come up with different stories that the work is not selling. At the end of all these, the filmmaker will not even make his capital back, let alone profit. That means the little fund he had is now depleted or he is indebted. Most likely, his next production will not even meet the standard of the previous one. That is why they make films and give it to a half-literate man to subtitle, and then, you see all those funny things they call subtitling. They should not be associated with any sane society. Investment by the private sector is very crucial.
Some years back, President Goodluck Jonathan promised the industry a fund of $200 million, but the only beneficiary so far is a US-based filmmaker, Tony Abulu?
I don't know where the money is, so I don't want to talk about it. That is even more reason private investors are needed because when they put their money on a project, they follow it to the end because they don't want to lose. Government's money is the people's money, so by the time it passes through one ministry to the other, things spill off the table. And when they eventually land, they're worthless. My brother, please let's leave this topic.
Subtitling of movies has become a menace. How do you tackle the menace?
We need to train and retrain. People need to stop pretending that they know it all. Somebody cannot be the producer, director, screenwriter e.t.c in a single production.
With your experience as a broadcaster, do you have the intention of setting up a radio or television station?
I have bigger dreams along that line and I'm still working towards achieving them. Let's just keep our fingers crossed.