Nnamdi Felix / Abuja
Ahead of 2015 Presidential election, former Information Minister and elder statesman, Chief Edwin Clark on Tuesday in Abuja made a case for an automatic Peoples Democratic Party's ticket for President Goodluck Jonathan as is done in other democracies, especially in the United States of America where Nigeria copied its Presidential system of government.
Chief Clark canvassed the issue at a media briefing in Abuja where he rose in defence of President Goodluck Jonathan over claims made by Niger state Governor Babangida Aliyu of an existing single term agreement between northern state governors and the President. He stated that there was no such an agreement.
The Ijaw leader pointed out that even if there was such an agreement, the fact that the northern governors failed to keep their own part of the bargain to support candidate Jonathan at the polls had nullified any agreement whatsoever.
Clark pointed out that Governor Aliyu led the Peoples Democratic Party delegates from Niger state to vote for Alhaji Atiku Abubakar who contested the party's primaries against Goodluck Jonathan and went ahead to mobilize his state to vote for General Muhamadu Buhari, the Presidential candidate of Congress for Progressive Change, CPC, at the Presidential election.
He berated the governor for the ethnicity based politics he's pursuing noting that it is unfortunate and disappointing that the governor could engage in such bare-faced lies and false propaganda simply because of his own inordinate ambition to seek election as President of Nigeria come 2015, and that the only qualification Governor Aliyu thinks he have over President Jonathan is being a Northerner who must rule at all time.
In support of his position, Chief Clark relied on the definition of the term "agreement" as a mutual understanding between two or more legally competent individuals or entities about their rights and duties regarding their past and future performances and a consideration that they must perform their own obligations in order to be bonded by the agreement" and declared that even if there was an agreement, that failure of the northern governors to keep their own end of the bargain had nullified whatever was agreed.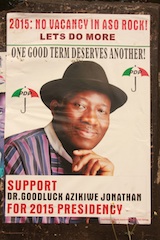 "You will recall that in the PDP Presidential Primaries held at the Eagle Square, you directed your State delegates to give Alhaji Atiku Abubakar 94 votes and a paltry 16 votes to President Jonathan. Again with the defeat of your candidate in the Primaries, your State voted overwhelmingly for Major General Muhammadu Buhari (Rtd.) of the CPC who scored a total vote of 652, 574 against President Jonathan's 321, 429 votes in the Presidential Election.
Paradoxically, in the Gubernatorial Election that followed, you defeated the CPC Governorship candidate. This clearly shows your insincerity and dishonesty to the purported agreement which to my mind existed only in the figment of your own imagination and by extension a product of your obsession with the Northern agenda in Nigeria. In fact, President Jonathan won convincingly in the North Central States except your own Niger State," the Ijaw leader pointed out to Governor Aliyu.
On automatic ticket for President Jonathan, Chief Clark noted that no candidate in the Democratic Party in the United States of America contested the primaries with President Bill Clinton when he decided to stand for a second tenure and that no Republican Party faithful contested the Presidential Primaries with George W. Bush when he desired for a second tenure including the recent reelection of Obama where no Democratic Party member contested Primaries with him when he offered for a second tenure in 2012.