Benfica coach Jorge Jesus is hell bent on ending a European drought which has encompassed six losing finals stretching back to the 1960's as the Eagles take on Chelsea in tonight's Europa League final in Amsterdam.
Jesus says Benfica are on revenge mission against Chelsea who beat Benfica 3-1 in the quarter-final en route to winning the trophy.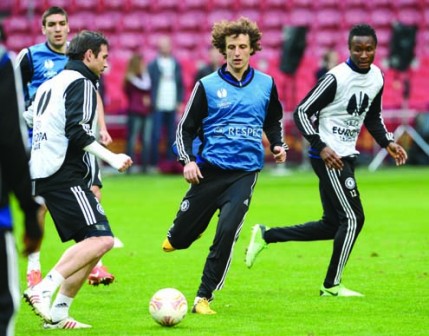 The Benfica manager said: "We weren't happy last year, but we hope luck will be with us this time. It's normal people think they're the favourites. But a final is a final.
"The players are very highly motivated to be at their highest level in all aspects – technique, tactics and emotional balance."
This will be his side's first European final in 23 years.
Benfica, who won the European Cup twice in the 1960s, have lost their last six finals. Jesus added: "Winning gives you the prestige; This is what we want to create at Benfica."
Benfica won the European Cup in 1961 and 1962 but have since finished runners-up in five finals, the last in 1990 when AC Milan beat them in Vienna, as well as the 1983 UEFA Cup final.
In his fourth season at the helm in Lisbon, Jesus leads a side against Chelsea for the second time after Benfica were eliminated in the Champions League quarter-finals last season before the London side went on to lift the trophy.
Chelsea won 1-0 in Lisbon and 2-1 in London thanks to a stoppage time goal by Raul Meireles to wrap up a 3-1 aggregate win over the Portuguese champions. But for the Benfica coach those two matches mean nothing for this year's final.
"It will be different tomorrow night as Chelsea have a new manager (interim coach Rafael Benitez) who has his team following different ideas about football," said Jesus.
"While they now have several different players with better individual quality…that makes them better as they lacked players like that last season."
Meanwhile, Benítez is desperate to see Chelsea end a turbulent season on a high by beating Benfica and lifting the Europa League trophy.
The Blues, who started the campaign aiming for seven different trophies, were parachuted down into Europe's second tier competition after failing to make their way out of the Champions League group stage in the wake of Roberto Di Matteo's sacking.
And Benítez says he would be bursting with pride to see his side win the title after battling against a season of "difficult circumstances".
"A European final is massive," said the Spaniard.
"Maybe you can score an early goal and change, or concede three and have to change at half-time.
"You have to have confidence and belief you can do well. Your team has to have the same feeling, and you have to see what happens but it depends on the other team too.
"This is the final and I want to win. If we can do it I will be really proud because we worked so hard in difficult circumstances.
"You have to give credit to all the people involved, the staff and the players."

Load more