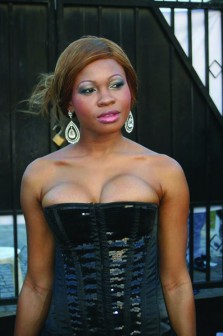 Project Alert On Violence Against Women, a non-government organisation, has denied stories making the rounds that the proceeds from the auction of the late musician, Susan Harvey's (a.k.a. Goldie), property would be donated to the organisation. In a statement released by Mrs. Josephine Effah- Chukwuma, the Executive Director, Project Alert, said not only has the organisation not been informed by Goldie's family, it is also  not aware of the auction which supposedly took place on 1 May.
"We have in the last few weeks read reports on various social media that the proceeds of late Susan Harvey's property,  to be auctioned on May 1, would be donated to Project Alert. We have also been approached by journalists asking the same questions, and we have had to tell them, that we have not been formally informed by Goldie's family and know nothing about the sale of her property and donation of proceeds to Project Alert," the statement read.
Effah-Chukwuma, however, acknowledged Goldie as a former ambassador of Project Alert who strongly believed in its vision and mission. She noted that the late musician had embarked on speaking arrangements, advocating for zero tolerance for all forms of violence against women and supported the organisation in many ways.
One of her very outstanding contributions, Effah-Chukwuma said, was her active participation in the 10th Anniversary Shelter Fund Raising Event which held in May 2009.
–Nehru Odeh

Load more