Lagos State Governor, Mr. Babatunde Fashola and his Delta State counterpart, Dr. Emmanuel Uduaghan, have congratulated Ogedegbe Primary School, Warri for winning the 2013 Channels National Kids Cup.
Both governors also commended Mr. John Momoh, Chairman and Chief Executive Officer of Channels Television, for the sports initiative aimed at catching football talents young.
The boys from Warri defeated their counterparts from Uwa Model Nursery/Primary School, Benin City by 4-2 to lift the trophy at the annual tourney that came to an end yesterday at the Teslim Balogun Stadium, Surulere, Lagos.
Richards Model Primary School, Kawu, Kaduna State finished in third position.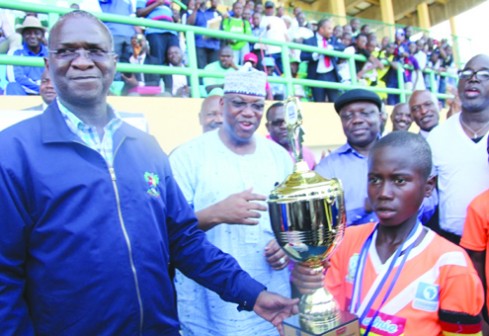 Since its commencement in 2009, the competition had involved only schools in Lagos State, but the 2013 edition featured schools outside Lagos.
Governor Fashola commended the management of Channels Television, especially its Chairman/CEO, Mr. John Momoh, for what he described as a "wonderful initiative".
According to Governor Fashola, who later performed the kick-off ceremony to herald the start of the finals: "The importance of this initiative is not lost on any one. In all ramifications, it is a wonderful initiative and that is why we are supporting it."
Dr. Emmanuel Uduaghan, said the Delta State Government has been supportive of the initiative because, according to him, it is a foundation that portends a great future for Nigerian football.
He also thanked his Lagos State counterpart for lending support to the initiative.
Other dignitaries present at the occasion were the Chairman of Grassroots Sports in Lagos State, Mr. Yomi Peters, Senior Special Assistant on Grassroots Sports to the Governor of Lagos State, Prince Wale Oladunjoye and other top sports administrators in Lagos, Delta and other states.

Load more