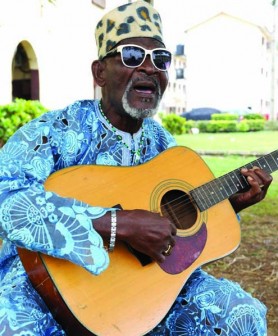 Highlife music veteran, Fatai Rolling Dollar is dead at 86. The octogenarian passed on this morning at Ahmadiyya Hospital in Abule Egba, Lagos, southwest Nigeria. He was rushed to the hospital by his wife about  a week ago.
Kunle Tejuosho, whose label, Jazzhole Records, brought out 'Won Kere Si Number Wa' among other albums, confirmed his death. He said the deceased came back from America some weeks ago where he had gone for shows for about three weeks.
Tejuosho in his tribute, said: "Baba was a great Musician. He lived a life of a musician. He was always happy to perform. May be he took too much on.
"He was a good guy. He enjoyed his life. He had a second chance which he used very well.
"He would be missed because he brought the past alive to the present. He re-lived the music of the 50s. He was a great music historian and a great music custodian."
Yomi Opakunle, his former manager, also confirmed the death. He however said the deceased may be buried today.
Rolling Dollar was known for his verve and dexterity on the guitar. His zest for life and energy, even in old age, was also a marvel to all who beheld him while performing.
He later got a higher lift through Asiwaju Bola Ahmed Tinubu, while as Lagos State governor.
The late musician was given a house in one of the low cost housing estates in New Oko Oba, Lagos.
Juju music legend, Ebenezer Obey was among those trained by the late musician.
As a pioneer Juju music player, Rolling Dollar clarified in an interview how juju music derived its name.
"It was derived from the tambourine which is one of the key instruments used to play it. When they play it on the street they would shout 'Ju so ke'. They would then throw the tambourine up and shake it. … shukushuku. That was how juju got its name and not from bad medicine and all that. Even though in Saro land the word was taken to mean bad medicine. But here in Lagos our juju meant music. In juju then, we had the guitar, agidigbo, samba, sekere and at times we used the bottle to give us that clave sound. In fact, white people invented the clave from our bottle sound. That is where they got the idea for it," he said.
He was born on 22 July, 1926, in Ede, Osun State. The guitarist and singer, whose real name was Fatai Olagunju, had fallen into obscurity after highlife's popularity faded decades ago, only to have his career revitalised recently by tradition-minded musicians.
He continued playing energetic concerts into his 80s, usually sporting sunglasses, and often boasted of his sexual prowess.
He once said he had 15 children, with the youngest born only a few years ago — the result of an "adventure" on the sidelines of a concert in Germany, according to him.
In highlife's golden era, Fatai was a nationally celebrated performer. Highlife music, born in Ghana in the early 1900s, reached its peak in the west African region in the 1950s and early 1960s.
The West African dance music is similar in sound to Caribbean calypso and often satirises modern life.
Fatai sang in his native Yoruba language as well as in the pidgin English spoken throughout Nigeria.
His popular song "Won Kere Si Number Wa" (They Cannot Match Us) asserted his generation's superiority over those younger than him.
He once said he was given his nickname when he was a child because he often carried a few American dimes in his pocket that he and his friends would "roll" or flip.
Fatai's colourful personality showed in his music and even in his dress. In an interview with AFP more than a year ago, the bearded musician wore a yellow-and-blue outfit with canary yellow sunglasses and a military beret.
During the interview, he bemoaned the hip-hop music that now dominates in Nigeria, Africa's most populous nation.
"If you want to know a good musician, a good musician should know how to play any instrument," he said, describing his irritation with artists he accused of sometimes being "lazy" and simply seeking "easy money."
With his talent ignored and his fame forgotten, he lived in poverty from the 1970s until the late 1990s, when he was rediscovered.
Nigeria's Jazzhole Records later released new music from him, including the album "Fatai Rolling Dollar Returns."

Funsho Arogundade, with additional reports by AFP

Load more