President Goodluck Jonathan on Wednesday attributed the slow economic growth in the country to the numerous crises that trailed his administration since 2011.
Jonathan stated this shortly after receiving the 2013 Africa Peace Award from the United Religions Initiatives (URI), at the Presidential Villa, Abuja.
He said that no nation could witness economic stability or internal democracy in an atmosphere of social unrest, saying that economic growth, development and stability were tied to political stability.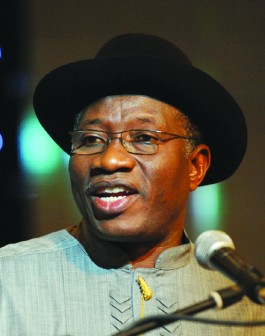 According to him, no meaningful economic development can be recorded where people are fighting.
"There cannot be economic development without peace.
''For you to develop economically, there must be peace and political stability. So, the leadership of African Union and ECOWAS have changed and we believe that we must help ourselves and help our states and govern our states the way they should be governed. If there are crises, we should intervene and that has been helping us significantly.''
While dedicating the award to all Nigerians, Jonathan promised to continue to play the role that would enhance peace and guarantee political stability in Nigeria.
''This award is dedicated to my people and my country, Nigeria. We couldn't have been qualified for this award if my people did not encourage me.
''We would continue to do our best. For me as an individual, I will continue to play my role in spite of the challenges.
''Let me use this unique opportunity to call on all Nigerians and all the people of the world to embrace peace. You cannot talk about development when you are fighting.''
Presenting the award to President Jonathan, the Regional Director of URI, Ambassador Mussie Hailu, said the award was in recognition of the President's immense contributions to religious harmony in Nigeria and peace keeping efforts across the world.
''We have been following with great interest the great role the President is playing in his country, West Africa and Africa as a whole since he took office as President of Nigeria.
''We commend his leadership qualities in West African sub region in particular when he was ECOWAS Chairman and also lauded the current Transformation Agenda of his administration.
According to him, the award, which is non- monetary, is meant to honour people who have distinguished themselves and exhibited exceptional leadership qualities.
Amongst the previous recipients of the award were the former Presidents of Mozambique, Joaquin Chissano, Girma Woldegiorgis of Ethiopia, Paul Kagame of Rwanda and Blaise Compaore of Burkina Faso.