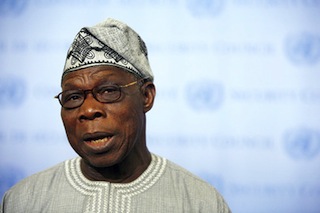 Former President Olusegun Obasanjo on Monday condemned the abduction of more than 200 schoolgirls in Government Girls Secondary School, Chibok in Borno.
Obasanjo made the condemnation during the signing of a Memorandum of Understanding (MoU) with the Jigawa Government to adopt a junior secondary school and a primary school in Kudai, Dutse.
He appealed to the abductors to release them without any condition because the girls were innocent and should not be made to suffer unreasonably.
"Whatever the grievances, objectives and anger of this group of people who are behind this abduction, they should not have acted on these innocent girls.
"We condemn their action and also appeal to them to release these girls unconditionally because they have important contributions for the future of this country," Obasanjo said.
The former president sympathised with the parents of the girls but added that people should not be discouraged to send their female children to school.
He said Nigerians should see what happened as a stumble and not a fall and be challenged to give their girls good education.
Obasanjo prayed and expressed the hope that the girls would be found and delivered to their parents.
He said that his visit to the state was to fulfil a promise he made during Jigawa Economic Summit to adopt a school and transform it to a model on the African continent.
Obasanjo said that the gesture was to complement the efforts of Governor Sule Lamido in promoting girl-child education in the state.
Lamido thanked Obasanjo for his support and cooperation for the development of the state.