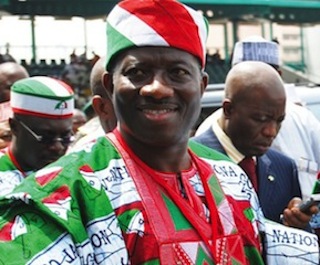 President Goodluck Jonathan in Abuja on Thursday 5 June said that the ruling Peoples Democratic Party was the only transparent political party in Nigeria.
Jonathan made this known at the 65th National Executive Committee (NEC) meeting of the Peoples Democratic Party (PDP).
The president noted that the PDP was the only transparent party in the country where primaries were done on a free and fair basis.
He also reiterated that the problem of insurgency would soon become a thing of the past.
He also said the Federal Government was doing everything possible to ensure that the military was given the right funding and equipment to fight insurgence in the country.
"All what I can assure you is that all those issue of equipment is being handled.
"God willing, this challenge of Boko Haram and other criminal elements will soon become history in this country."
Jonathan said though some PDP governors left the party for the opposition, their absence was not being noticed by the party leadership.
This, he said, was because of the commitment of the party's leadership, noting that some party members who defected to the opposition could not even win elections in their wards.
He commended the PDP National Chairman, Alhaji Adamu Mu'azu, for being focused in rebuilding the party since his emergence.
According to him, since Mu`azu became chairman, there has been maximum cooperation and unity among the members of the party's National Working Committee (NWC).
The president said that while contending with the country`s security challenges, the Federal Government was still very committed to issues of development.
He said most states, especially the ones controlled by the PDP, were doing well based on the party's manifestoes, adding that this being appreciated by some Nigerians.
He encouraged party members not to be moved by the defection of some of its members to the opposition, adding that their defection was inconsequential to the party.
Jonathan maintained that the PDP was still solid and remained the dominant party in the country, adding that this was demonstrated by the party's recent zonal rallies.
He added that the PDP was the only party where every politician could play real politics as the party's credentials had not changed since its inception.
The president noted that the PDP was the only transparent party in the country where primaries were done on a free and fair basis.
Jonathan thanked the party executives who attended the meeting in spite of the short notice.
The NEC meeting was attended by party chieftains, Board of Trustee members, PDP governors, the Senate President and the Deputy Speaker, House of Representatives.