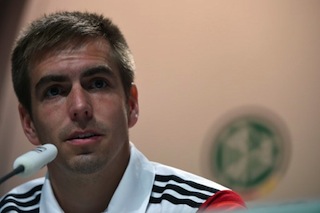 Germany captain Philipp Lahm played down the significance of Portugal counterpart Cristiano Ronaldo's fitness ahead of the two sides' World Cup clash.
Ronaldo, who has been struggling with knee and hamstring problems, returned to training Tuesday alongside his injury-hampered teammates midfielder Raul Meireles and defender Pepe ahead of their June 16 opener against Germany in Salvador.
However, according to Lahm, Germany's preparation for the game will be the same regardless of whether Ronaldo plays of not.
"With Ronaldo, I am taking it that he will play but it makes no difference to us," said Lahm.
"He is an exceptional player but we are preparing normally as if he is going to play, as if he will be able to play and we think he will be able to play.
"For him too, it must be special to face us again, he must be desperate to finally beat us."
The two sides met at the same stage of Euro 2012, with Germany winning 1-0, and Lahm expects an equally difficult match two years on.
"Portugal played very well against us two years ago and with a bit of luck we were able to win," the 30-year-old said.
"They're a very good team, especially physically.
"I said after the draw that we would have to give everything in the first match and play well tactically because if we don't win, we will be under a lot of pressure. That makes the match with Portugal rather crucial."
At the last World Cup in South Africa, Germany enjoyed impressive victories over England and Argentina before falling to eventual winners Spain at the semi-final stage.
But Lahm says there are some important changes in his side from four years ago.
"There are certain differences between the 2010 World Cup, where lots of players were playing their first major tournament, and 2012, where the players were more used to playing at the highest level with their club.
"I believe we still have a very good team now. There are lots of players who are not used to sitting on the bench and not playing from the first minute. That's where team spirit will come into play and we already saw that on Friday (in the 6-1 friendly win over Armenia)."