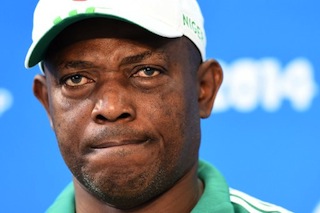 The Nigeria Football Federation, NFF may offer coach Stephen Keshi a better deal that will pay him seven million Naira a month (over $43,000), top officials have exclusively informed AfricanFootball.com.
This plan comes amid confusion whether or not Keshi has quit his postion as coach. AfricanFootball.com has also learnt that the NFF has a Plan B to hire a foreign coach to be assisted by a local man and this would be if Keshi turns down the new contract tabled by his employers.
Keshi himself told AfricanFootball.com that he never resigned, but is a free agent as his contract ended with the World Cup in Brazil.
He also said he is yet to be presented with a new contract and should there be one, he would insist on such personal terms like a house and a car.
"I never resigned because my contract just ended. I will only resign if I have a contract," Keshi told AfricanFootball.com
"I was meant to know that I'm still on as long as the World Cup is there. Once the World Cup is over, I'm no more there.
"No one from the NFF offered me a contract, so what do you want me say? To keep shut? I need to let the world know that I'm a free agent, I can go anywhere until otherwise."
Keshi said for a new Nigeria contract his agreed personal terms will have to be in place, which was not the case for his first stint.
"We have to talk on my personal terms or it won't work because in the first contract of two and a half years, there was no house, no vehicle, no staff, there was nothing done. I really don't know," he said.
Top official of the League Management Committee, LMC, Shehu Dikko, was with the Super Eagles in Brazil, told AfricanFootball.com that both the NFF and the coach will soon have to take a decision on whether or not to extend the contract.
"If he wants to continue, he has to tell the NFF. If the federation wants him to continue, they need to convince him that because you have achieved so much, we want you to stay on," Dikko told AfricanFootball.com
"It's really the vision of the people in charge. They will decide on what they want but it does not matter because this is a country of 160 million people and there are always other people who could do this job."
Keshi has since left for the United States of America to reunite with his family.