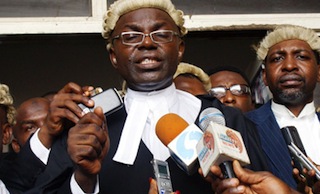 Kazeem Ugbodaga & Eromosele Ebhomele
Bamidele Aturu, one of Nigeria's foremost human rights lawyer is dead.
Close friends to Aturu, a prominent Lagos, Nigeria-based human rights lawyer and analyst, who died Wednesday evening have disclosed that he actually collapsed and could not make it to the hospital.
Aturu was said to have been confirmed dead on arrival at the Lagos University Teaching Hospital, LUTH, Idi-Araba.
Confirming his death to P.M. NEWS, Dr. Joe Okei-Odumakin, said he was unconscious and never did not make it to the hospital. The cause of is death is yet to be confirmed.
Debo Adeniran of the Coalition Against Corrupt Leaders, CACOL, who expressed grief at the news of Aturu's death, confirmed to P.M. NEWS that the late lawyer collapsed.
"I was told he collapsed, but the news did not come to me early. By the time I heard it, I called his wife, the background noise coming from the other end seemed sounded like a church setting. It was another person, a lady, who picked the phone and was just shouting: 'it is well' and that Aturu's wife cannot speak to me.
"He must have overworked himself or he is a victim of the doctors' strike, but we will know in due course," he said.
Born 49 years ago, Aturu, nicknamed "Gentle Tiger" for his outstanding brilliance and stand-out personality. He studied law at the Obafemi Awolowo University and observed his National Youth Service Corp in Niger State between 1987/88.