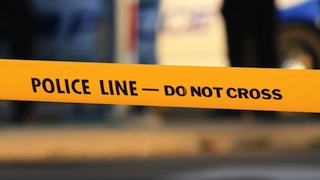 Four people were stabbed to death in Kenya's volatile port city of Mombasa following security raids on mosques in which a man was killed and over 200 people arrested, police said Tuesday.
The gang took to the streets Monday night in apparent revenge attacks, beating some and stabbing others, following the raids earlier in the day targeting the two mosques accused of links with Somalia's Al-Qaeda affiliated Shebab militants.
"We are investigating the incident and have arrested some of the suspects," local police chief Richard Ngatia said.
Police said the group was armed with crude weapons when they attacked residents of the town's Kisauni district.
During the raids a 20-year-old man was shot dead by police after he tried to throw a grenade. Police seized hand grenades and a pistol.
Hussein Khalid, from the Mombasa-based civil society group HAKI Africa, had previously condemned the police raids, warning that "force will only act to heighten tension in what is already a volatile situation."
Western nations have warned their nationals to avoid all but essential travel to Mombasa, a key transport hub as well as an important tourist centre for the country's Indian Ocean coastline.
The city has been hit by bombings and shootings since Kenya invaded Somalia in 2011 to attack the Shebab, later joining an African Union force battling the Islamists.
The Shebab carried out the September 2013 attack on Nairobi's Westgate shopping mall, killing at least 67 people as a warning to Kenya to pull its troops out of southern Somalia.
Several Islamic preachers have been shot dead in Mombasa in recent years in alleged extra-judicial killings by security forces and power struggles between rival Muslim factions. Churches have also been attacked.
Load more