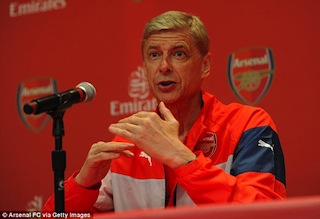 Arsenal manager Arsene Wenger shrugged off criticism from Gunners shareholder Alisher Usmanov as he urged everyone involved with the north London club to get behind the team.
Usmanov — whose Red & White Holdings Group has just over a 30 per cent stake in Arsenal's parent company – gave an interview to US broadcaster CNBC in which he questioned the direction of the club, whose majority shareholder is American businessman and sports entrepeneur Stan Kroenke.
Usmanov said Wenger's errors were not properly reviewed and that this failure to consider the veteran French manager's mistakes was preventing Arsenal from becoming one of Europe's leading clubs.
The Uzbek metals, mining and telecoms magnate comments came with Arsenal having lifted just one trophy in nine-and-a-half years and followed Saturday's a 2-1 defeat at home to Manchester United, a loss that marked the team's worst start to a season since 1982.
But Wenger, speaking ahead of Arsenal's Champions League clash against Borussia Dortmound at the Emirates on Wednesday, said: "When you are such a long time in football as I am, you don't understand any more what crisis means.
"I must get to the dictionary and look at it well again," he added.
"During the 18 years I have been here I have shown that I can take criticism. Everybody has the right to have an opinion, having said that, we have values at this club.
"The first one is when we go through a difficult patch, we show solidarity. That is a very important one.
"The second one is that, when you have something to say to each other, we say it face to face. We don't need to go to the newspapers.
"I don't take (Usmanov's comments) personally at all. It is an opinion that I respect, but when you are from this club, you are from this club. You are in or out, you cannot be both.
"I am long enough in the game to know that when you play well, but lose the game, you get flooded with critics, however, if you play a very bad game, but you win it, everyone says how great you are.
"It is our job to take a distance with that and see what was right and what was wrong. The rest is part of the game."
Even though Saturday's defeat again exposed longstanding concerns about Arsenal's defence and a failure to take their chances, Wenger was confident they could finish in the top four, even though the Premier League title appears out of reach given the Gunners are already 15 points behind leaders Chelsea.
"What is important is how close we are together inside the club and how much we can respond to people who question our quality," Wenger said.
"I personally feel that there is a very strong bond inside the team and the club, and that this team will have a very strong season.
"I believe in what I do and I especially believe in my players, and in their quality and spirit.
"I question myself every day and I hope you do that as well," Wenger also told reporters.
Load more