Arsenal captain Mikel Arteta added to his club's injury woes as the Spaniard limped off with a calf problem in Wednesday's 2-0 win against Borussia Dortmund.
Arteta was replaced in the 67th minute of the Champions League Group D clash and Gunners manager Arsene Wenger fears he could be sidelined for several weeks.
The former Everton star's injury comes after Wenger saw England midfielder Jack Wilshere ruled out for a long period with an ankle problem suffered against Manchester United on Saturday.
Polish goalkeeper Wojciech Szczesny is also out with a hip injury sustained against United, while England striker Danny Welbeck missed the Dortmund game with a knee problem.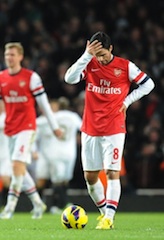 Arteta was joined on Arsenal's growing injury list by France Under-21 striker Yaya Sanogo, who came off after scoring his first goal for the Gunners.
"Arteta again has a calf problem that looks quite serious. I think he will be out for a while. We also lost Sanogo with a hamstring injury," Wenger said.
"Wilshere sees a specialist at last tomorrow (Thursday) and we will know more about him then.
"The injuries are difficult to take on the chin. We go into many games and we need as many players available as possible."
Load more